Hallo and welcome to my blog. My name is Christian Houmann. This blog will be the first of many and I will write about my love and passion for music and my desire for the electric bass.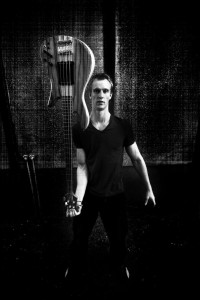 I have played the bass for the last 15 years. I'm considering myself a musician, which happens to play the bass mostly. I would love to be a singer, but I don't have a great singing voice so therefore I will leave that to the thousands of those amazing singers around the world. Singers have the ability to carry their instrument along with them always. Those of us who are an instrumentalist need our tools to perform. While singers have their own unique sound and will always have that sound unless they are able to change it. In the search of your sound you'll have to find an instrument which fits you and have the sound you are looking for.
As a solo artist I believe you must find your own sound. For example guitar players such as Pat Metheny and Mike Stern. They both play the jazz, rock & fusion but still they have their own sound. So the listener can tell who it is within the first 5 seconds of listening to them. Marcus Miller and Jaco Pastorius both have different sound even though they both are playing a Fender jazz bass. Jaco Pastorius has been dead for almost 30 years, so he is obviously not playing a jazz bass anymore. But every time you hear a fretless jazz bass with bridge pickup on, you think of Jaco.
Most players care for their instruments and you often get a close relationship to some of your instruments. Your first instrument is sometimes very special. I remember my first bass. I was 12 and hadn't played bass before. I got a 4 string white Yamaha. It was very cheap but a good instrument. I really don't know why, but I felt that I needed a 5 string bass to become a better player. So I worked hard that summer and earned the money to get an Ibanez 5 string in a metallic blue color. I listened to Guns'n'Roses before I started to play bass, but then a friend of mine who is a drummer introduced me to Primus and from that day I was one of the biggest Primus fans in Denmark. Les Claypool's bass play blew me away (Still does). Soon I wanted a bass like Les Claypool's bass. But at that time there wasn't that much info on the internet about basses or at least I didn't know where too look. I found out that he was playing a Carl Thompson bass but that was about it.
Later I saw a catalog for Warwich basses and I found a bass, which looked a bit like Les Claypool's main 4 string. It was a Fortress one 4 string and it had that long upper horn which was similar to Les Claypool's bass. This bass I played for a few years and then I moved on to a Fender Jazz bass. A lot people told me that every bassplayer should have a Fender because it had the same look and sound as always and it wasn't about to change. It was a sunburst 62' reissue jazz bass and it had a great Fender sound. It was warm and could fit in to all different kind of music. I became better bassplayer and started being more into solo bass players and tried to learn from them all. Marcus Miller, Stanley Clarke and Victor Wooten were some of my biggest influences. I got the Bassday 98' with Victor Wooten on VHS and from that day I knew that I wanted a bass like his. That bass was a Fodera. His bass sounded so good. So clear in sound and very very cool looking. He was playing his second version of his Yin & Yang bass. His first Yin & Yang bass was actually a Monarch fretless 4. I believe you can find it on his website. I liked my Fender but the strings where far away from the fingerboard and if I tried to lower the strings I got too much frets noise. It was like playing an upright bass!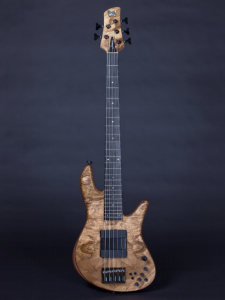 I knew that I had to get a Fodera bass. At that point Fodera where offering a standard Monarch model which had a bolt-on neck and 2 band preamp. Those basses didn't have different specs so Fodera could make 4 to 6 basses at the same time and keep the cost down.
USA is far from Denmark and I didn't know anyone who owned a Fodera in Denmark or in the rest of Europe. Fodera are some of the most expensive electric basses in the world. One day I wrote on a Danish Forum for basses about Fodera basses and a guy told me that he owned a Fodera Monarch Elite 4 string. It freaked me out and I asked if we could meet. So I visited him and it turned out that he also had a Matthew Garrison model 4 string and a fretless Beez Elite 4 string (Now called an Imperial 2 model). I tried his Monarch. It had almost the same specs as Victor Wooten's famous 83' Monarch. It was an Elite model, which means it had a neck-through and it had EMG soar bars pickups.  The action was very low and smooth to play. After a couple of minutes I knew this was the bass for me and I wanted to buy it from him, but no. He wouldn't sell it to me. Instead he offered to order a new bass through him because he knew Vinny and Joey from Fodera. I said yes, but at that point I didn't think of the money. Luckily I was gigging a lot, so my income was pretty good and I was able to do it. I wanted a bass like Victor Wooten, so I ordered a Monarch Deluxe 4 with similar spec like the Victor Wooten model, but without the Tulip marks at the 12 & 24 fret. Vinny suggested me Kingwood for fingerboard. At that point I had no idea about the different kind of wood, so I said yes. I got the bass just after 4 months because they already had a neck ready, which they could use for this bass. Normally the wait for a Fodera is around 2 years.
The bass was the best bass for me and I felt that I could play anything on it. I used it all the time and my Fender 62' reissue, which I also had at that time got no use at all. So I ended up selling it. The Victor Wooten model featuring a Mahogany body and rosewood fingerboard (Kingwood in my case) was light and mahogany really adds tight lows and very pleasant highs. Together with the EMG pickup, which is crystal clear you have a bass with an amazing sound. My bass with same specs as Victor's bass also had the same sound as his bass. Surprise. My only problem was that I couldn't play like him.
Next time I will write about my other basses and how I use them in different settings. Since I'm new at this blogging thing, I would love to hear to if there are things I can change or you things you want to know more about.
Christian Houmann, 1982. Graduated Master of Music from Aalborg Music Academy in 2010.
He has played the bass for the last 15 years with several artists and different bands. He has recorded with jazz fusion groups such as Between the Lines and The New Fuzz and is currently working on his own debut album which releases early 2011.
Visit him at:
www.christianhoumann.dk
www.youtube.com/user/Houmannbass
www.myspace.com/christianhoumann
www.musicacademydenmark.dk
www.facebook.com/Houmannbass
Listen to him here:
www.soundcloud.com/humannoproject