We present you Croatian cellist Ana Rucner. Her parents are classically trained musicians so they were big influence on Ana, who started playing at the age of 7. Education is very important to her. That's why she holds the title of cello professor. In her work she always tries to connect classical with modern music. Vintage & Rare talked to Ana about her work.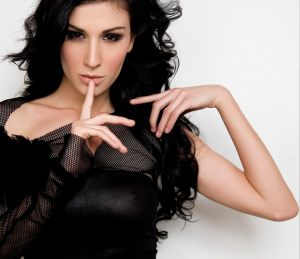 Could you please tell us a bit about how and when you got into playing music?
I was six and a half years old, almost seven when I told my mom I wanted to play cello just like her. My mom is a beautiful woman and in that segment of my life she was my role model and somehow I just wanted to be like her. It is great for a kid to have a role model like I had. That is how I started. My mom supported me of course, we bought a small cello. It all started 22 years ago.
When did you start playing electric cello?
It was exactly ten years ago; I have it at home for ten years. That all happened in period when my thinking about music was changing. I got the instrument that actually changed my whole life.
Your music has elements of classical, modern and ethno. Could you explain us why you initially got into the type of music and genre you're playing?
I am classically educated, that is where classic comes from. Without it I couldn't do anything else. As far as modern approach is concerned, growing drew me to do something different. When I create my music I always put myself into the listeners position, I want it to be pleasant and nice to them. That is how I do it. As far as ethno elements are concerned, I respect a lot Croatian tradition. It is my country, country where I grew up. I think that combination of traditional instruments and classical music through modern approach is amazing. It is available to everyone. In some spontaneous way, it all came together.
What musicians have inspired you the most over the years and why?
I think I will never forget one cooperation that happened ten years ago. I was playing at Maribor philharmonic as a part time member during my studies. Every month I used to go to Maribor,Slovenia; worked whole week there (rehearsals, project etc.). One day came a man called Lalo Schrifin. He created a hit "Mission impossible"; great man, musician, conductor, pianist. He was playing his greatest movie hits on the piano and conducting the orchestra I played in. Lalo inspired me a lot.
Everything changed for me and I fell in love with classic and modern music. He is not the cause of my thinking but he helped me to grow. Of course my other role model is my mother. She is a great cello player and a woman. Every now and then musicians find new inspiration. But the most important is to know what you want and stick to that.
What do you prefer, playing solo and/or with other musicians?
I usually play solo. Playing solo is my favourite choice because I have complete freedom. But of course I am not always completely alone. Sometimes I have with me ''Gudački kvartet Rucner'' where my mother and father play with two more musicians. I love to play with orchestra; they put some extra touch to the sound.
I also love to play Bach's suites on acoustic cello; when the surrounding is good, special occasion, good acoustic that is a special moment just for me and my cello. That is special connection for me and I prefer that more than anything else.
Any artists and ensembles around the world that you would like to play and record with?
Of course there are lot of orchestras, musicians; at the moment I am not thinking much about that. In Croatia I played with ''HRT Symphony Orchestra''. With ''Zagreb philharmonic orchestra'' I just recorded project ''Ode to joy''. That video got an award in Berlin; ''Das golden Stadttor'', so-called tourism Oscar for the best video.
I had different co operations. Maybe I will play with amazing orchestra from Oman, composed with great musicians. I would love to make a project with them. But something completely different, maybe pop-punk-rock combination. I became really good at that. I hope that this will be achieved in the near future.
Can you tell us about the cellos you are using?
Acoustic cello that I have been using for 15, 16 years was a gift. I was 13 years old when I got it. That is really old but amazing instrument from Italy, 1845. Ladies cello, slightly narrower than the standard, but meets the standards of the entire cello. The sound is special, warm, and receptive; I coalesced with it and it is the most important to me, to have a good cello.
As far as the electric is concerned, at home I have two Yamaha cellos. One I bought in Birmingham, near London. It is produced by great man David Johnson from the Violectra Company. It was done by the extent of my acoustic one.
I also have few, made of carbon; I bought them for fun and dyed in crazy colours. I love to decorate them, they even have Swarovski crystals. Those are not the instruments for classical music, but they look really good on photography and recordings. For now I have six of them, but that is not the end, just the beginning of a beautiful friendship.
Does the cello you play in concerts and live differ from the ones you're during recording work?
Mostly it does not. Actually, when I record in the studio, it is always acoustic cello. That sound cannot be compared to electric one. As far as modern expression is concerned, I have a good electric cello which can of course be very much strengthened and has many effects. These instruments cannot be use under all conditions. It is not wise to take acoustic cello on extreme temperatures. Even though I did that and nothing happened.
So basically I play classical music on acoustic cello, modern music on electric one and I always record on acoustic cello. As I already mentioned, I also have some cellos that are more for photos than to produce sound. With my white cello I would never play classical music because I don't think it would give the same sound as acoustic one.
Any famous last words?
I would like to greet all the readers; it was really nice talking to you.
When you love what you do it is very important to be persistent, innovative and to have the inspiration. You simply take what you have and go all the way with it. It is also very important to have an instrument that breathes with you. There are a lot of good cellos, but not all of them suit everyone. Instrument must be your best friend.
www.anarucner.com
www.facebook.com/ana.rucner
itunes.apple.com/us/artist/ana-rucner/id519685590
Would you like to add something about Ana? Please leave a comment…