AJL Guitars / Andreas Öberg Gypsy Fire / 2010's / Guitar For Sale
I have designed this model together with Andreas. It's based on Parisian luthier J.Favino's guitars' size and body shape. Our main goal was to cut the unwanted high frequencies and overtones without losing power from the high strings. Andreas also wanted lots of bass response and a big sound. This model is the loudest of all models.
Available as oval hole or a D-hole model. Tuners, woods for back and sides and finishing options as shown on "features" section
Andreas' personal "Deep Purple" guitar is a D-hole version of this guitar. It also has custom colour and some extra details. Check that model from "custom guitars section"
Technical data
Scale length: 670 mm
Body size: Favino 425 mm
Top: Solid European spruce
Back and sides: Laminated rosewood or maple
Neck: maple, three pieces with rosewood stripes
Neck dimensions: 45 mm at the 0-fret, 57 mm at the 14th fret
Fingerboard: Ebony with abalone dots
Frets: Dunlop 6105
Tailpiece: Bilardi-style
AJL Guitars, Finland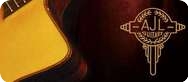 Contact name:
Ari-Jukka Luomaranta
Languages:
Finnish & English
Specialties:
Exclusive Handcrafted Guitars
Opening hours:
8 am - 4 pm
AJL-Guitars
AJL-Guitars are handbuild in Finland by Master luthier Ari-Jukka Luomaranta. AJ has been specialized in Gypsyguitars long time, but also builds archtops. He is also known as guitarplayer and producer.
AJL Premium-class Gypsyguitars are known worldwide, they're built traditionally and are very close to original Selmer guitars from 30's and 40's.
His model X-O is said to be closest to original Selmer than any other guitar.
Modern technology is used to make wood sound like old. They're played by many top gypsyjazz players.
Special service - select your own brazilian rosewood
AJ is know to be specialized brazilian rosewood. Check the website at http://www.ajl-guitars.com/woods.html You can see current selection of laminated backs & sides and choose yours - and the guitar will be built for you from that particular wood.
His brazilian rosewood is CITES proven "pre-copnvention" stock, and You always get CITES paperwork with your guitar, and you will not end up in troubles with it !
Guitars are also built with backs & sides in Pao Ferro, Maple & Indian rosewood.
Guitars also always include Handmade AJL-Fiberglass case, for archtops, some exclusive options for cases too at http://www.ajl-guitars.com/case.html
Guitars are very seldom available on stock, waiting list usually from three months to one year
Please see link here:
http://www.ajl-guitars.com/ordering.html
Comments Questions and Answers to AJL Guitars / Andreas Öberg Gypsy Fire/ 2010's / Finland