AJL-Guitars / Master 400 19 / 2012 / Sunburst / Guitar For Sale
Legendary Master 400 19 inch No compromise big-band rhythm guitar. Used like Freddie Green on Count Basies band until -55 + other Rhythm guitarists of the bigband era. Largest archtop ever, Huge volume & projection. Original sound with all original detailing.
Finest European master-grade tonewoods. A Masterpice of guitarbuilding craftmanship. Grover Imperials, lightened handmade brass tailpiece. Original Elmer Stromberg-style genuine mother-of-pearl headplate inlays (no CNC work here!!) Stromberg-style stairstep pickguard
Original-style single brace top
Handmade AJL Two tone faux lizard skin covered Fiberglass case with 38 mm insulating & shockproofing, snakeskin style interior
AJL Guitars, Finland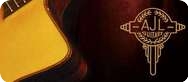 Contact name:
Ari-Jukka Luomaranta
Languages:
Finnish & English
Specialties:
Exclusive Handcrafted Guitars
Opening hours:
8 am - 4 pm
AJL-Guitars
AJL-Guitars are handbuild in Finland by Master luthier Ari-Jukka Luomaranta. AJ has been specialized in Gypsyguitars long time, but also builds archtops. He is also known as guitarplayer and producer.
AJL Premium-class Gypsyguitars are known worldwide, they're built traditionally and are very close to original Selmer guitars from 30's and 40's.
His model X-O is said to be closest to original Selmer than any other guitar.
Modern technology is used to make wood sound like old. They're played by many top gypsyjazz players.
Special service - select your own brazilian rosewood
AJ is know to be specialized brazilian rosewood. Check the website at http://www.ajl-guitars.com/woods.html You can see current selection of laminated backs & sides and choose yours - and the guitar will be built for you from that particular wood.
His brazilian rosewood is CITES proven "pre-copnvention" stock, and You always get CITES paperwork with your guitar, and you will not end up in troubles with it !
Guitars are also built with backs & sides in Pao Ferro, Maple & Indian rosewood.
Guitars also always include Handmade AJL-Fiberglass case, for archtops, some exclusive options for cases too at http://www.ajl-guitars.com/case.html
Guitars are very seldom available on stock, waiting list usually from three months to one year
Please see link here:
http://www.ajl-guitars.com/ordering.html
Comments Questions and Answers to AJL-Guitars / Master 400 19/ 2012 / Finland