AJL Guitars / XO 503 / 2011 / Shellac - Relic / Guitar For Sale
X-O is available for Model Jazz, Model 503 and D-hole "Maccaferri" models
Features
Stright grain laminated old stock Brazilian rosewood back and sides. Different grades of Brazilian rosewood can be chosen from http://www.ajl-guitars.com/woods.html
Heat-treated European spruce top
AJL-tuners
Original headstock glue joint
Distressed relic finish
"Thermotimber" is a heat treatment procedure for wood, usually used for construction and carpentry woods. Tampere University of Technology, Luthiery department of Ikaalinen School of Arts and Crafts and a company named "Suomen Ekopuu" has developed a special heat treatment procedure which is suitable for tonewoods. The normal "Thermotimber" procedure has some unwanted side effects for tonewood (decreasing elasticity, decreasing bending strength and colour changes). Certain special modifications to the procedure give many great advantages including increasing the speed of sound and resulting in a lighter weight, These can be reached without any unwanted effects mentiioned above.
On X-O, the relic finish is done with a water-based stain straight to wood, natural shellac and very slight amount of nitrocellulose to neck, back and sides. No sealers or fillers are used. Compared to a normal finish, vibrating mass is reduced, and the guitar is more sensitive, clear and crispy. It really feels like an old Selmer.
Technical data
Scale length: 670 mm or 640 mm on short scale
Body size: 410 mm at lower bout
Top: Solid European spruce,
Back and sides: Hand laminated straigh-grain Brazilian rosewood.
Neck: threee piece European walnut with original headstock joint
Neck dimensions: 45 mm at the 0-fret, 57 mm at the 14 th fret OR 48 - 60 on short scale D-hole guitars
Fingerboard: Ebony with genuine MOP-dots
Tuners: Selmer-style AJL-tuners
Truss-rod: Two-way adjustable
Frets: Dunlop 6105
AJL Guitars, Finland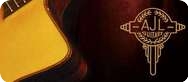 Contact name:
Ari-Jukka Luomaranta
Languages:
Finnish & English
Specialties:
Exclusive Handcrafted Guitars
Opening hours:
8 am - 4 pm
AJL-Guitars
AJL-Guitars are handbuild in Finland by Master luthier Ari-Jukka Luomaranta. AJ has been specialized in Gypsyguitars long time, but also builds archtops. He is also known as guitarplayer and producer.
AJL Premium-class Gypsyguitars are known worldwide, they're built traditionally and are very close to original Selmer guitars from 30's and 40's.
His model X-O is said to be closest to original Selmer than any other guitar.
Modern technology is used to make wood sound like old. They're played by many top gypsyjazz players.
Special service - select your own brazilian rosewood
AJ is know to be specialized brazilian rosewood. Check the website at http://www.ajl-guitars.com/woods.html You can see current selection of laminated backs & sides and choose yours - and the guitar will be built for you from that particular wood.
His brazilian rosewood is CITES proven "pre-copnvention" stock, and You always get CITES paperwork with your guitar, and you will not end up in troubles with it !
Guitars are also built with backs & sides in Pao Ferro, Maple & Indian rosewood.
Guitars also always include Handmade AJL-Fiberglass case, for archtops, some exclusive options for cases too at http://www.ajl-guitars.com/case.html
Guitars are very seldom available on stock, waiting list usually from three months to one year
Please see link here:
http://www.ajl-guitars.com/ordering.html
Comments Questions and Answers to AJL Guitars / XO 503 / 2011 / Finland