Fender / Stratocaster / 1969 / Sunburst / Guitar For Sale
What we have here is a 1969 Fender® Stratocaster® in an awesome original sunburst finish. This piece was aquired from a serious private collection and is said to have been used on The Smothers Brothers Show by a member of the backing band (We're just mentioning it…we offer no provenance attached to it as proof). The neck dates August 1969 and the pots date the 34th week 1969. This all original, 100% piece plays and sounds as outstanding as it looks.
*Currently on loan to the 1968 Exhibit*
PCI Music, USA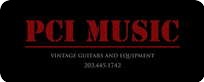 Contact name:
Steve Pastir
Specialties:
Vintage, Factory Custom Shop and Collectable Instruments and Equipment
PCI MUSIC is a boutique vintage instrument dealer.
An upmarket business, PCI MUSIC is purchaser and purveyer of superior vintage collectable guitars and instruments. PCI MUSIC provides quick, personal service, assuring a great experience every time.
BUYER and SELLER of:

Vintage and Collectable Guitars - Accoustic and Electric - All brands
Vintage Amplifiers - FENDER, MARSHALL, VOX, GRETSCH, etc.
Vintage Pedals
Vintage Organs and Keyboards -HAMMOND, VOX, FARFISA, KORG
Appraisals
Please contact us with any inquiries, and let us know about any vintage instruments and /or equipment you are interested in selling. Visit the website often, as we regulary post our latest accquisitions.
Quality and authenticity guaranteed.
Steve Pastir/Paul Gabriel
Returns: •Any Instrument Returns must be authorized by the store. •Instrument must be returned in same condition as shipped.•Buyer is responsible for the instrument during approval period. •Shipping and related expenses are non-refundable. •Buyer pays for prompt return shipping. •Item must be shipped back via a service comparable with which it was delivered, immediately upon return authorization.
Shipping: Item ships within two business days of cleared payment. Buyer pays for shipping and insurance. Shipping is based on actual cost for Ground. Overnight and 2 day is additional.
Payment: Bank wire, Bank checks or Cash on local pickup
Comments Questions and Answers to Fender / Stratocaster/ 1969 / USA