Fender / Telecaster Thinline / 1968 / Mahogany / Guitar
This is a 1968, all original Fender Telecaster Thinline (sn# 2376XX) in a beautiful natural mahogany finish. This style guitar had a limited 4 year production in the USA, starting in late 1968 (this example was made in December, 1968). This Tele® Thinline is in near mint condition. The single f-hole body has stunningly grained mahogany and the clear finish is in great shape. There are a few checks in the finish. The "mother-of–toilet-seat" pick guard is in great shape with no cracks. The "B"size maple neck is in great shape. The original tuners and the truss rod work as intended. The frets are original as well and have almost no play wear on them. The neck is straight and action is low and fast. She weighs in at a mere 6 ½ pounds. The two single coil pickups in her sound great too and measure 6.04 k ohms for the bridge pickup and 6.54 k ohms for the neck pickup, both measured at the output jack. The electronics and solder joints are untouched and both potentiometer codes read the 17th week of 1966. This classic Thinline will ship with its original black tolex case and will be professionally packed with care.

PCI Music, USA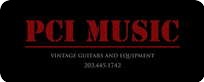 Contact name:
Steve Pastir
Specialties:
Vintage, Factory Custom Shop and Collectable Instruments and Equipment
PCI MUSIC is a boutique vintage instrument dealer.
An upmarket business, PCI MUSIC is purchaser and purveyer of superior vintage collectable guitars and instruments. PCI MUSIC provides quick, personal service, assuring a great experience every time.
BUYER and SELLER of:

Vintage and Collectable Guitars - Accoustic and Electric - All brands
Vintage Amplifiers - FENDER, MARSHALL, VOX, GRETSCH, etc.
Vintage Pedals
Vintage Organs and Keyboards -HAMMOND, VOX, FARFISA, KORG
Appraisals
Please contact us with any inquiries, and let us know about any vintage instruments and /or equipment you are interested in selling. Visit the website often, as we regulary post our latest accquisitions.
Quality and authenticity guaranteed.
Steve Pastir/Paul Gabriel
Returns: •Any Instrument Returns must be authorized by the store. •Instrument must be returned in same condition as shipped.•Buyer is responsible for the instrument during approval period. •Shipping and related expenses are non-refundable. •Buyer pays for prompt return shipping. •Item must be shipped back via a service comparable with which it was delivered, immediately upon return authorization.
Shipping: Item ships within two business days of cleared payment. Buyer pays for shipping and insurance. Shipping is based on actual cost for Ground. Overnight and 2 day is additional.
Payment: Bank wire, Bank checks or Cash on local pickup
Comments Questions and Answers to Fender / Telecaster Thinline/ 1968 / USA