Gibson / J-185 60th Anniversary Quilted Custom Maple / 2012 / Natural / Guitar For Sale
60th Anniversary J-185 Quilt Custom
A direct descendent of the legendary "King of the Flat-Tops," the J-185 could be dubbed the "Prince of the Flat-Tops" given its ability to deliver bold, rich tones in a slightly more compact package for a wide range of playing styles. Released in 1951 and discontinued in 1958, guitars in the first run of this model are some of the rarest Gibson acoustics ever produced. Now, as part of our exclusive Five Star Series, Gibson Acoustic introduces the 60th Anniversary J-185 Quilt Custom. This guitar is crafted by the acclaimed luthiers of Bozeman, Montana, as part of a limited run intended for
Gibson Acoustic Five Star Dealerships
. These dealers are the experts in their field. They all have trained and certified Gibson Acoustic Specialists on their sales staff to provide the finest possible service to players and collectors seeking premium Gibson acoustic guitars. This exclusive run of 60th Anniversary J-185 Quilt Customs is strictly limited to 60 guitars.
The 60th Anniversary J-185 Quilt Custom is crafted from the finest traditional tonewoods, including a solid top made from prized Adirondack red spruce, with elegant quilted-maple back and sides, and completed in one of two hand-sprayed nitrocellulose finishes: Antique Natural or Vintage Sunburst. The top is supported by a traditional J-185 X-brace with scalloped spruce braces, and trimmed in multi-ply binding with a double-ring rosette, multi-ply back binding, and a tortoise J-185 pickguard. The neck is carved from solid mahogany to a comfortable modified "V" profile, attached with a compound dovetail joint secured with hot hide glue. The rosewood fingerboard is inlaid with mother-of-pearl parallelograms, to mirror the mother-of-pearl Gibson headstock logo and crown inlay. Offering the superb playing feel to which Gibson lovers are accustomed, the guitar is built to the popular 24-3/4" scale length, with a neck width of 1.725" across the traditional bone nut.
A top-flight acoustic instrument offering deep, lush tones and impressive volume and projection, the 60th Anniversary J-185 Quilt Custom is also equipped with an L.R. Baggs™ Element® pickup that amplifies that tone for those occasions that require plugging in. Gold vintage-style Gotoh™ tuners ensure smooth action and an efficient performance, while a traditional belly-up rosewood bridge with a Tusq saddle and mother-of-pearl Maltese Cross inlays provides optimum resonance. All in all, the 60th Anniversary J-185 Quilt Custom is a gorgeous recreation of one of Gibson's rare acoustics, perfect for the 21st century player and collector alike. It is limited to just 60 guitars worldwide, so see a
Gibson Five Star Dealer
today to inquire about availability.
Every guitar includes a Gibson hardshell case with blue plush lining, an owner's manual, and Gibson Gold Warranty.
Adirondack Red Spruce top with Quilt Maple back and sides
Mahogany neck with Modified "V" profile
Rosewood fingerboard with Mother of Pearl paralellogram inlays
L.R. Baggs® Element™ pickup positioned under Bone saddle
Gold Gotoh tuners with an efficient 14:1 turn ratio
| | |
| --- | --- |
| Body Type | SJ-185 Series |
| Top | Adirondack Red Spruce |
| Back and Sides | Quilt Maple |
| Binding | Multi-ply Top and Back Binding, Double Ring Rosette |
| Bracing | Traditional J-185 X-Braced Top |

Neck
| | |
| --- | --- |
| Species | Mahogany |
| Profile | Modified "V" Profile |
| Truss Rod | Single Action |
| Adhesive | Premium Titebond |

Neck Fit
| | |
| --- | --- |
| Joint | Compound Dovetail |
| Construction | Joint at 14th Fret |
| Adhesive | Hide Glue |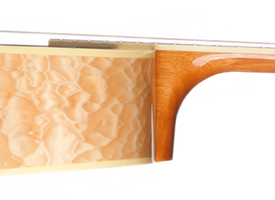 Fingerboard
| | |
| --- | --- |
| Species | Rosewood |
| Frets | 20 |
| Scale Length | 24 3/4" |
| Radius | 12" Radius |
| Binding | Single-ply Cream Binding |
| Fret Wire | Gibson Montana Standard Fret Wire |
| Inlays | Mother of Pearl Paralellograms |
| Adhesive | Premium Titebond |

Headstock
| | |
| --- | --- |
| Type | Traditional CF-100 |
| Angle | 17 Degrees |
| Inlay | Mother of Pearl Gibson Logo and Crown |
| Truss Rod Cover | Black and White Antique Bell with Engraved "60th Anniversary" Script |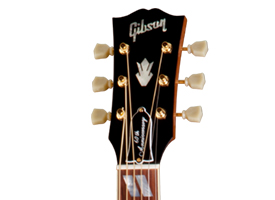 Nut
| | |
| --- | --- |
| Material | Bone |
| Width | 1.725" |

Tuning Keys
| | |
| --- | --- |
| Type | Gotoh® Keystone |
| Plating | Gold |
| Ratio | 14:1 |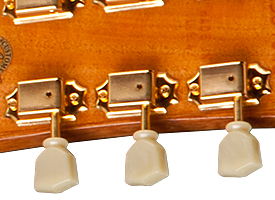 Bridge
| | |
| --- | --- |
| Type | Traditional Belly-Up with Mother of Pearl Maltese Crosses and Tusq Saddle |
| Material | Rosewod |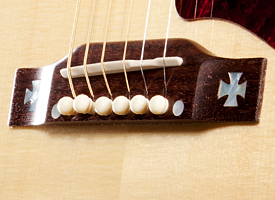 Pickup
| | |
| --- | --- |
| Model | L.R. Baggs® Element™ |
| Location | Under Saddle |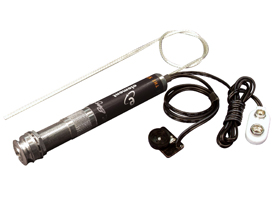 Hardware
| | |
| --- | --- |
| Pickguard | Traditional J-185 Tortoise |
| Strap Buttons | End Pin Jack Strap Button |
| Strings | .011" - .052" Gibson Light Guage |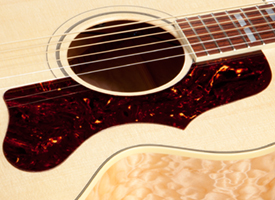 Case
| | |
| --- | --- |
| Type | Gibson Standard Hardshell Case |
| Case Exterior | Blue Fabric |
| Case Interior | Black Tolex |
JobFactory Musicstore, Switzerland

Languages:
English;German
Opening hours:
By appointment or e-mail us
Job Factory Musicstore Webshop
Job Factory Musicstore is a part of the Job Factory AG in Basel/Switzerland. We specialize in electric and acoustic guitars and basses, amplifiers and accessories. We are located in the Dreispitz Area in Basel, where parking is easy!
Brands that we normaly stock: Fender, Squier, Gibson, Epiphone, PRS, Eastwood, Vintage, Fretking, Blade, Crafter, Schecter, Ibanez, Jackson, Wolf, Morgan, Martin, Taylor, Stanford, Marshall, Vox, JMI, Orange, Hiwatt, Blackstar, Laney, Fender, Randall, Line 6, Roland, Suhr, Brunetti, Genz Benz, Bogner, Zvex, Fulltone, Boss, Diamond Pedals, Pigtronix, Ibanez, Electro Harmonix, Xotic, Eventide, Digitech, Jam pedals, Lovepedals, Modtone, Ohlala Pedals, Way Huge, Jacques. THE POINT IS, WE CARRY LOTS OF COOL STUFF!!!!
Our Philosophy
We believe that the BEGINNERbeginner is the life-blood of the music industry. The beginner gets treated with special attention when looking for his-her first instrument. The larger JobFactory AG company, dedicated to helping jobless young people get the training they need to enter the workforce, has shown its dedication to the youth of Basel, and the JFM continues this mission. We encourage parents when looking for their childrens first music making experiences to visit the JFM and talk with our staff.
The PROFESSIONAL MUSICIAN, audiophile, and 'gear junkie' is revered and respected here as well. Our staff consists of professional musicians and gear fanatics, always looking to discuss new gear, live sound possibilities and recording techniques with their peers.
Our INVENTORY is without compare here in Basel. We have designed the inventory with variety being the most important factor. Jazz players, metal, blues, indie, folk and classically minded players will all find something that speaks to them. Traditional styles, the strangely shaped, vintage and retro, modern, and contemporary are all represented.
CUSTOMER SERVICE is our number one priority here. If we do not have what you want, we will order it for you! We will do the research, and find the exact right piece of gear for you.
Typical Guitar Store 'snobby' attitude, is not welcome here. We have EXTENSIVE KNOWLEDGE here, but, we do NOT know everything! We are looking to extend our own knowledge as well as transferring it to the customer. We encourage customers to come to our store and relax, have a coffee and cake at our Take-away. Lets talk about gear! Share your knowledge with us.
We are never offended by the customer who is 'just looking'. Guitars are meant to played. They are not merely things at which to be stared. We like to see a fine instrument in a persons hands, not on the wall.
If you are a fan of FX PEDALS, then welcome to Paradise! We have, without doubt, the best pedal selection in Switzerland. Everything is available for the customer to test, from the basic clean-boost to multi effectors and synth generators.
DRUMMERS are welcome here as well, and will find an extensive inventory of cymbals, skins, hardware and accessories.
We are THE BEST GUITAR SHOP IN TOWN.
We look forward to your visit!
Your MusicStore Team:
David Max – Abteilungsleiter
Ruben Bachmann
Romano Mancini
Ayet Shala

Comments Questions and Answers to Gibson / J-185 60th Anniversary Quilted Custom Maple/ 2012 / Switzerland