Gibson / Les Paul Studio Satin / 2012 / Blue Stain / Guitar
Les Paul Studio Satin
For full-throttle Les Paul thrills at a trimmed-down, no-nonsense price, look no further than the Les Paul Studio Satin. This guitar includes all the classic ingredients that have made the Les Paul Standard legendary since humbuckers first hit the scene in 1957, along with a familiar, played-in look and feel. Ever since its introduction more than a quarter of a century ago, the Les Paul Studio has proven a major favorite with guitarists looking for genuine Les Paul tone and performance in a down-to-business package that is light on frills, heavy on swagger and easy on the pocket. Now the Les Paul Studio Satin from Gibson USA brings the package together with legendary playability, two of Gibson's finest humbucking pickups, and the classic tonewood combination—including the maple top that's missing from many Studio models—that helped to make the Les Paul Standard famous in the first place. All this, and it looks great in your choice of Worn Cherry, Worn Brown, Blue Stain, Ebony Stain, Satin Yellow or Satin Fireburst, all in genuine nitrocellulose lacquer, with the pre-aged satin look and feel that so many guitarists prefer.

Just like the most revered Les Paul Standards of all time, the Les Paul Studio Satin starts with the classic tonewood combination of a mahogany body with solid carved maple top. Together, these woods offer outstanding tonal depth and richness from the mahogany, with superb clarity and "snap" from the maple. In this model, the strategic placement of several tone chambers enhances resonance while also reducing the guitar's overall weight considerably, without sacrificing an ounce of punch or sustain. And even in this more affordable instrument from Gibson USA, the glued-in, solid-mahogany neck is cut to the superior "quarter-sawn" grain orientation for superior strength and optimum resonance transfer between neck and body. The neck is carved to a comfortably rounded '50s profile that measures .818" at the 1st fret and .963" at the 12th. It is topped with a 22-fret fingerboard made from hard, brown baked maple, a wood selected for its sustain and bite. Traditional acrylic trapezoid inlays grace the board, but a lack of fingerboard and body binding help to keep costs down, while enhancing the raw, ready-to-rock look of this Studio model.

To make optimum use of all that sweet resonance and singing sustain, the Les Paul Studio Satin carries a pair of Gibson's best pickups. Updated from the acclaimed Burstbucker pickups that populate numerous instruments from Gibson Custom, the Burstbucker Pros on this guitar give you all the renowned warmth, growl and zing of genuine PAF humbuckers, with biting Alnico V magnets. The set includes a slightly overwound bridge pickup for searing lead tones, and both pickups feature wax-potted coils to squelch microphonic squeal at high volumes. Together, they provide everything from warm, vocal blues tones in the neck position, to snappy in-between settings, to phenomenal crunch and wail in the bridge position. To further maximize all that vibrational energy, Gibson includes its legendary Tune-o-matic bridge and stud-mounted wraparound tailpiece, along with a PLEK-cut Corian nut, and a set of vintage-style TonePros™ tuners. Wrap it all in a grab-and-go Gibson gigbag, with owner's manual and coverage by Gibson's Limited Lifetime Warranty and 24/7/365 Customer Service, and you've got one of the best values going in a genuine Les Paul, only from Gibson USA.
Body
| | |
| --- | --- |
| Top | Maple |
| Back | Mahogany |
| Body Type | Chambered Weight Relief |
| Adhesive | Franklin Titebond 50 |

Neck
| | |
| --- | --- |
| Species | Mahogany |
| Profile | 50's Style |
| Truss Rod | Traditional Adjustable |
| Joint Angle | 5° (+/- 15 seconds) |
| Adhesive | Franklin Titebond 50 |

Neck Fit
| | |
| --- | --- |
| Joint | Mortise & Tenon |
| Adhesive | Franklin Titebond 50 |
| Joint Angle Tolerance | +/- .005" |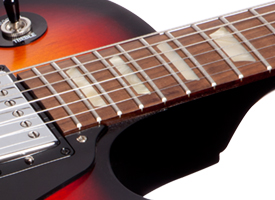 Fingerboard
| | |
| --- | --- |
| Species | Baked Maple |
| Frets | 22 |
| Radius | 12" |
| Nut/E.O.B | 1.695"/2.260" |
| Inlays | Figured Acrylic Trapezoids |

Nut
| | |
| --- | --- |
| Material | Corian |
| Width | 1.695 |
| Slots | Gibson PLEK System |

Headstock
| | |
| --- | --- |
| Logo | Gibson" Logo with scripted "Les Paul Model" |
| Truss Rod Cover | Black and White Antique Bell with "Studio" Imprint |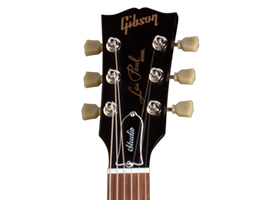 Tuners
| | |
| --- | --- |
| Model | Vintage-Style |
| Plating | Nickel |
| Tuning Ratio | 14:1 |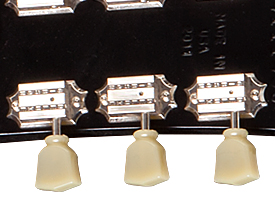 Bridge
| | |
| --- | --- |
| Type | Nashville Tune-O-Matic |
| Material | Zamak |
| Plating | Chrome |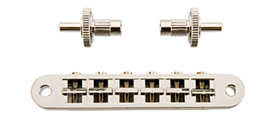 Tailpiece
| | |
| --- | --- |
| Type | Stop Bar |
| Material | Zamak |
| Plating | Chrome |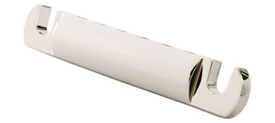 Hardware
| | |
| --- | --- |
| Knobs | Black Speed Knobs |
| Pickguard | Black plastic |
| Toggle Switch Washer | Black plastic |
| Control Plate Cover | Black plastic |
| Strap Buttons | Aluminum |
| Strings | .010 - .046, Genuine Gibson strings |

Pickups
| | |
| --- | --- |
| Neck Position | Burstbucker Pro |
| Bridge Position | Burstbucker Pro |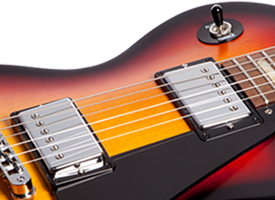 Electronics
| | |
| --- | --- |
| Potentiometers | 2 Volume Controls, 2 Tone Controls |
| Type | 300k Linear Volume, 500k Non-linear Tone |
| Coil Wiring | Machine Wound |
| Toggle Switch | Three-way Switchcraft with Black Plastic Tip |
| Output Jack | Traditional 1/4" |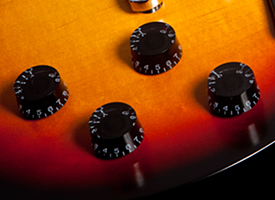 Finish
| | |
| --- | --- |
| Sealer | Nitrocellulose |
| Process | 1-1.5 mils |

Satin Fireburst

Satin Yellow

Worn Brown

Worn Cherry

Blue Stain

Ebony Stain
Case
| | |
| --- | --- |
| Type | Gibson Deluxe Gig Bag |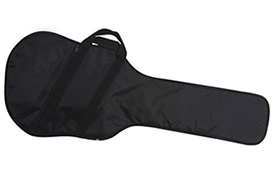 Accessories
| | |
| --- | --- |
| Additional Materials | Each Les Paul Studio comes with adjustment literature, and documentation for the guitar's Limited Lifetime Warranty, along with Gibson's 24/7/365 Customer Service. |
In order to continually improve the design, quality and performance of our instruments and to make use of the best materials at all times, Gibson reserves
JobFactory Musicstore, Switzerland


Languages:
English;German
Opening hours:
By appointment or e-mail us
Job Factory Musicstore Webshop
Job Factory Musicstore is a part of the Job Factory AG in Basel/Switzerland. We specialize in electric and acoustic guitars and basses, amplifiers and accessories. We are located in the Dreispitz Area in Basel, where parking is easy!
Brands that we normaly stock: Fender, Squier, Gibson, Epiphone, PRS, Eastwood, Vintage, Fretking, Blade, Crafter, Schecter, Ibanez, Jackson, Wolf, Morgan, Martin, Taylor, Stanford, Marshall, Vox, JMI, Orange, Hiwatt, Blackstar, Laney, Fender, Randall, Line 6, Roland, Suhr, Brunetti, Genz Benz, Bogner, Zvex, Fulltone, Boss, Diamond Pedals, Pigtronix, Ibanez, Electro Harmonix, Xotic, Eventide, Digitech, Jam pedals, Lovepedals, Modtone, Ohlala Pedals, Way Huge, Jacques. THE POINT IS, WE CARRY LOTS OF COOL STUFF!!!!
Our Philosophy
We believe that the BEGINNERbeginner is the life-blood of the music industry. The beginner gets treated with special attention when looking for his-her first instrument. The larger JobFactory AG company, dedicated to helping jobless young people get the training they need to enter the workforce, has shown its dedication to the youth of Basel, and the JFM continues this mission. We encourage parents when looking for their childrens first music making experiences to visit the JFM and talk with our staff.
The PROFESSIONAL MUSICIAN, audiophile, and 'gear junkie' is revered and respected here as well. Our staff consists of professional musicians and gear fanatics, always looking to discuss new gear, live sound possibilities and recording techniques with their peers.
Our INVENTORY is without compare here in Basel. We have designed the inventory with variety being the most important factor. Jazz players, metal, blues, indie, folk and classically minded players will all find something that speaks to them. Traditional styles, the strangely shaped, vintage and retro, modern, and contemporary are all represented.
CUSTOMER SERVICE is our number one priority here. If we do not have what you want, we will order it for you! We will do the research, and find the exact right piece of gear for you.
Typical Guitar Store 'snobby' attitude, is not welcome here. We have EXTENSIVE KNOWLEDGE here, but, we do NOT know everything! We are looking to extend our own knowledge as well as transferring it to the customer. We encourage customers to come to our store and relax, have a coffee and cake at our Take-away. Lets talk about gear! Share your knowledge with us.
We are never offended by the customer who is 'just looking'. Guitars are meant to played. They are not merely things at which to be stared. We like to see a fine instrument in a persons hands, not on the wall.
If you are a fan of FX PEDALS, then welcome to Paradise! We have, without doubt, the best pedal selection in Switzerland. Everything is available for the customer to test, from the basic clean-boost to multi effectors and synth generators.
DRUMMERS are welcome here as well, and will find an extensive inventory of cymbals, skins, hardware and accessories.
We are THE BEST GUITAR SHOP IN TOWN.
We look forward to your visit!
Your MusicStore Team:
David Max – Abteilungsleiter
Ruben Bachmann
Romano Mancini
Ayet Shala

Comments Questions and Answers to Gibson / Les Paul Studio Satin/ 2012 / Switzerland