Jalapeno Drums / The Russian Doll Kit / 2010's / Drum / Percussion For Sale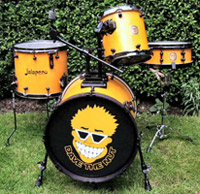 The Russian Doll Kit
The Russian Doll kit is my finest invention, and has instantly become my own personal kit of choice. Although the Hip-Gig style compact drum set concept provides storage and transportation convenience, the tonal qualities must (by default) be compromised to some degree.
The desire for "full-sized" drums in a pack-able format gave rise to the Russian Doll kit. The kit comprises of; 18x18" bass, 13x5" snare, 14x12" floor tom, and 10x10" tom, and comes with floor tom legs, 1 tom arm and 1 cymbal boom arm. The kit is delivered inside a single 18" Hardcase bass drum case, complete with wheels and towing handle.
The bass drum is Classic Series (6mm 12-ply Birch shells) – allowing for mounting on the shell – and comes apart to carry the snare and floor tom sitting on top of each other, while the floor tom also comes apart to carry the 10" tom. The snare is also Classic Series in construction, while the tom and floor tom are from the Elite series (3mm 6-ply Birch shells with support hoops), which reduces the carrying weight.
Prices start from £1800.00 / approx. €1920.00
Click here to see how we build Jalapenos Drums: http://www.jalapenodrums.co.uk/products_construction.htm
Click here to see our prices and colours: http://www.jalapenodrums.co.uk/prices.htm
Jalapeno Drums, UK

Specialties:
Handbuilt drums
In a world full of mass-produced drums

, Jalapeno Drums stand out as a shining jewel, offering the customer complete customization combined with hand-made individuality. Now in it
Drum orders normally take 6 to 8 weeks, unless stated as otherwise at the time of ordering.

A 50% deposit is required upon ordering (no work will begin until funds are received).

Balance of payment is required immediately prior to delivery.

You will be contacted when the drums are completed to confirm delivery date and address, and to collect the balance of payment

Payment can be made by cheque (payable to 'Jalapeno Drums'), by cash (not recommended to be posted) by Debit / Credit card, or by Paypal.

We accept Visa, Mastercard, Eurocard, Delta, Switch, Solo, Visa Electron and American Express

Comments Questions and Answers to Jalapeno Drums / The Russian Doll Kit/ 2010's / UK