At Vintageandrare.com we would like to introduce a new feature on our blog: The V&R-interviews. The purpose of this is to give a slight introduction to some of the amazing people, who build, sell or just plainly love their instruments as much as we do.
Our first headliner is the renowned Kari Nieminen, who is the mastermind of  the magnificent Versoul, residing in Helsinki, Finland. Karis stringed instruments has attracted a lot of attention from some cool customers, and here, Kari lifts the shroud on what lies behind his success in the business.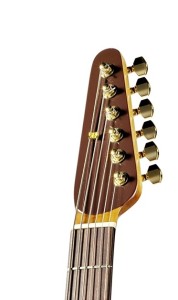 A closer look at the rockin' custom made Raya for Billy Gibbons – Photo by Versoul
Hello, Kari, and thanks for taking your time for this interview. Could you tell us, what initially made you become a luthier?
I started carving wood at age of three in 1963 and when I built my first guitar in 1973 it was technically an easy switch. I have been addicted to music since early 1970′s. Music has been a generator for my career; rock, blues and soul are the most important styles. At 17 I got my first guitar order and after since I have been experimenting with materials and technics. At 20 I built my first acoustic influenced by The Everly Brothers guitar sound.
I'm educated as an industrial designer and a self learnt guitar builder, so my approach to guitar building is different compared to traditional luthiers. I'm always searching and developing new concepts and ideas for new instruments, which are based on deep knowledge and analysis of guitar history and evolution.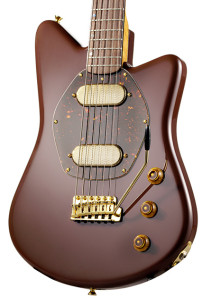 What has been your biggest challenge?
You have to be very patient since it takes at least 10 years to get more renowned and establish your brand at certain level. When you are a one man company you have plan your time and resources carefully. A major part of my work is communicating with clients and travelling to meet up with musicians and media for Versoul promotion.
What is your biggest dream of building someday?
Well, I'm only trying to make better instruments for open-minded musicians who would then use them as tools in the creative process of making immortal music.
Which was the first instrument you made?
I was about 13 years old in 1973 when I built my first guitar, an electric solid body at home. You may find a picture of it at my website's gallery. (We did, red).
Kari and his first, selfmade electric guitar – Private photo
What instrument have you been most proud of?
There are several instruments, actually.
There are the Kenny Burrell Jazz Models: A "Kenny Burrell Jazz Model 6-string" and a "Kenny Burrell Jazz Model 12-string" acoustic guitars made for jazz-guitar legend Kenny Burrell. I have also made a series of custom Raya electric guitars for ZZ Top-guitarist Billy F Gibbons, which made him so pleased that he named the models as 'Raya Billy F Gibbons Blue Light Specials'. Also I have built three custom 10-string guitars for Keith Richards during the last three years. Dusty Hill of ZZ Top bought my one of kind Raya Blue Light Bass in 2009 and keeps it at his living room with his favourite basses. My first important customer was Amancio Prada, a well respected Spanish artist, who ordered and plays my Touco Classical guitar. We have to remember that Spain is the home of the classical guitar and Amancio already owned the best, historical Spanish classical guitars. That order meant a lot.
What type of wood is your preferred, when building an instrument?
Of course the quality is important, wood have to be well seasoned and cut right. I use East Indian rosewood for fingerboards, back and sides & parts for acoustics and electrics. Also a bit of ebony fingerboards and parts. Red cedar and spruce for acoustic tops. Alder for electric guitar and bass bodies. Maple and aspen for neck material. Also curly and very rare visa birch for electric guitar tops. During last ten years I have been experimenting with domestic woods: alder and aspen. We have to remember, ecological aspects are more and more important, since certain tropical hardwoods have been over cut and are in danger of disappearing and have fortunately been protected. Therefore I do not use mahogany anymore.
The most essential thing about building guitars, is to use the right construction materials in balance with lightness, stiffess, resonance, flexibility, all combined with aesthetic aspects.
How did you get in touch with people like Ronnie Wood, Roger Daltrey and Billy Gibbons?
Around 2000 I got a great dealer, Westwood Music from Los Angeles. The owner, Fred Walecki, had very nice contacts and plenty of hi-end customers. Roger Daltrey was one of them. He got very excited by my Buxom acoustic guitar and wanted to help me, so he called Alan Rogan, a highly respected guitar technician. Alan has worked with George Harrison, Pete Townshend, Eric Clapton, AC/DC, John Fogerty, Joe Walsh, Keith Richards; etc.
Kari and Ronnie Wood – Photo by Alan Rogan
So, I sent two guitars to Alan and he was very impressed. First he introduced Versouls to Ronnie Wood. According to Rogan, Ronnie hardly even get excited by guitars, but after checking the Versouls, he immediately wanted to buy both. Since then, Ronnie has bought 6 other Versouls.
In 2006 I bought Billy Gibbons' book 'Rock'n' Roll Gearhead' and that inspired me to build a special Raya guitar with a Blue Light and perforated steel sides in a gold leaf finished body.
After one round of trying to get in touch with Billy, his long time friend Elwood Francis contacted me by chance. Elwood was working for Rich Robinson of Black Crows. Anyway, nice timing, so I sent some photos of the Raya Blue Light to Elwood and immediately afterwards, Billy wanted to buy it.
Were they demanding customers?
Yes, after all guitar is a communicating tool for them. Ronnie knows exactly what he wants; not only sound wise, as he is a visual artist himself, who understand aesthetic values a great deal. Also Billy Gibbons has played hundreds of guitars, and he's very hard to please sonically and visually. Besides this, Billy has very creative ideas of guitars.
What did they like about your specific style of building guitars?
Ronnie and Billy both like the Versoul uniqueness: The sound and playability & ergonomics combined with unique artistic features.
Ronnie Wood has bought two Raya Electric Baritones 6 string models, Raya Blue Lite Electric Guitar, Buxom 12 Acoustic Guitar (my gift to Ronnie when he turned 60) and a Henry Gold Leaf Top Electric Guitar.
These Versouls he used on the Bigger Bang Tour with The Rolling Stones.
In addition to this, he has bought Buxom 6 String Acoustic Guitar, which he for example used in the BBC Documentary about him. Also he has bought Resosun 6 String Electric Acoustic resonator guitar and Raya Electric and Buxom Acoustic Baritones, both 12 String Models.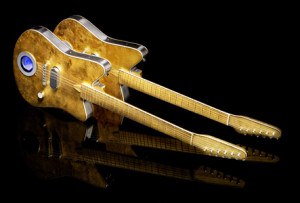 The custom made Raja guitars for Billy Gibbons – Photo by Versoul
The first guitar, Billy bought, was the above mentioned Raya Blue Light. a solid body guitar in gold leaf finished body. Right after that, he ordered two Raya Custom versions with chambered bodies and Les Paul scale length and all gold leaf finish, body and neck with chrome hardware. Billy was so pleased with his new Versouls that he named the model as Raya Billy F Gibbons Blue Light Special.
A year later he bought a Baritone 6 string version of the model concerned. In the summer of 2010 Billy then bought a Black finished Raya Billy F Gibbons Blue Light Special with gold hardware.
Billy has used his Versouls both on ZZ Top Tours and several other performances, like at the Goodwood Festival of Speed in the UK in 2010 with Jeff Beck and Jimmie Vaughan.
Visit Kari and Versoul at his website and have a look at the awesome craftmanship. It made Ronnie Wood and Billy Gibbons turn their heads, and yours will too. You should also check our current list of our associated dealers at Vintageandrare.com.