Bartlett / 58 Explorer / 2000's / Guitar For Sale
100% accurate 1958 Gibson Explorer replica made using traces of an original. Features all old growth korina and Brazilian rosewood, as well as Ox4 PAF replicas. Light relic. Comes with OHSC and build DVD.
USD 9500,- + shipping.
Electric Guitar Avenue, USA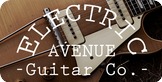 Specialties:
Vintage and fine guitars
Opening hours:
By appointment.