Duke / Konzert F Lefthand / 2020 / Guitar For Sale
This Duke Konzert F Lefthand model has a scale of 65 cm. The top is made of very fine solid spruce, back and sides are made of solid mahogany. The neck is made of cedro and is reinforced in the middle of the neck with Indian rosewood. The machine heads are R1 by Rubner. The guitars are refined with a high gloss finish.
Model: Konzert F
Top: Spruce solid
Back and sides: Mahogany solid
Scale: 650 mm
Nut: 52 mm
Siccas Guitars, Germany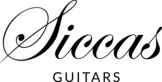 Contact name:
Siccas Guitars
Languages:
English, German, Italian, Spanish
Specialties:
the world's finest guitars in one place
Opening hours:
Shop opening hours: Mon, Tue, Fri: 10.00 - 18.00, Sat: 10 - 15.oo Office hours: Mon - Fri: 10.00 - 18.00, Sat: 10.00 - 15.00
Our vision is bringing together guitar buyers and sellers, guitarists and collectors from all over the world. We believe that it should be easy to buy and sell guitars. We believe that everybody who searches a guitar should be allowed to find his dream in an easy way and choose from a wide range of master guitars. We believe that everybody who wants to sell his master instrument should be given the opportunity to offer his guitar on a free and professional platform and thereby reach customers worldwide. Our passion for unique instruments and the joy to give guitarists, passionate players, and collectors the possibility to purchase their own appropriate instrument is the motivation that drives us. Together with our customers we want to develop new ideas and share experiences. You can find our showrooms in Germany, 76137 Karlsruhe, Roonstr. 31.
1. YOUR PERSONAL INFORMATION
We will use your personal information in accordance with our Privacy Policy [link], which forms part of these terms.
2. CONTRACT CONCLUSION
If you submit an order for goods via our homepage www.siccasguitars.com by clicking 'Buy', your order is an offer to us to buy the goods on our website.
We will acknowledge receipt of your order by sending you an automatically generated e-mail accepting your order. With this e-mail the contract will be concluded.]
The contract will relate only to those specific goods which are referred to in our e-mail con-firming our acceptance of your order. You should read and check the details in this e-mail to ensure that they are correct.
If the details in the e-mail confirming your order are not correct, or if you are not satisfied with the details in the e-mail, please contact us at: mailto: info@siccasguitars.com or Siccas GbR, Roonstr. 31, 76137 Karlsruhe, Germany. The contractual language is English.
We store the contract's content and will send you the details of your order as well as our general terms via e-mail. The general terms can be found [link] at all times. The details about your recent orders can be found in your customer login.
3. PRICE AND DELIVERY COSTS
We shall use our reasonable endeavours to ensure that the prices quoted on this site and our homepage are correct. Information displayed on this site relating to pricing is subject to change by us without notice, but those on the site at the time of any order placed will be the prices applicable to that order.
Where the correct price of the goods is less than our stated price, we will charge the lower amount on dispatch. If the correct price of the goods is higher than the price stated on this site or our homepage, we may, if possible, reject your order in our discretion, in which case we will notify you of such rejection and the correct price for the goods.
Unless stated otherwise, all prices include VAT (where applicable) but exclude delivery costs.
Shipping in Germany: Shipping costs in Germany are free. The minimum order value ist of 25 Euro.
Shipping outside Germany to a country within the EU: Outside Germany, but within the the EU, shipping costs are 22 Euro.
Shipping to all countries outside the EU cost 250 Euro.
Shipping costs will be notified to you separately before you submit your order and will be confirmed to you by e-mail.
4. AVAILABILITY AND DELIVERY
Information displayed on this site or our homepage relating to availability is subject to change by us without notice. We cannot guarantee permanent or continuous availability of all products on this site. All orders are subject to availability at all times.
We deliver worldwide.
We will deliver the goods ordered by you to the address you give us for delivery at the time you make your order.
Delivery will be made according to the information on the product pages after your order is accepted.
We are not responsible for any delay in delivery caused by the unavailability of someone to take delivery of the products. It is your responsibility to contact the post office or courier company as applicable to arrange the collection or delivery of products that could not be delivered because you were unavailable.
5. PAYMENT
Payment for goods can be made by one of the following payment methods:
– cash
– payment in advance
– PayPal
6. RIGHT TO CANCEL
Right of withdrawal
You have the right to withdraw from this contract within 14 days without giving any reason. The withdrawal period will expire after 14 days from the day on which you acquire, or a third party other than the carrier and indicated by you acquires, physical possession of the last good. To exercise the right of withdrawal, you must inform us, Siccas Guitars GbR, Roonstr. 31, 76137 Karlsruhe, Germany. Email: info@siccasguitars.com, of your decision to withdraw from this contract by an unequivocal statement (e.g. a letter sent by post, fax or e-mail). You may use the attached model withdrawal form, but it is not obligatory. To meet the withdrawal deadline, it is sufficient for you to send your communication concerning your exercise of the right of withdrawal before the withdrawal period has expired.
Effects of withdrawal
If you withdraw from this contract, we shall reimburse to you all payments received from you, including the costs of delivery (with the exception of the supplementary costs resulting from your choice of a type of delivery other than the least expensive type of standard delivery offered by us), without undue delay and in any event not later than 14 days from the day on which we are informed about your decision to withdraw from this contract. We will carry out such reimbursement using the same means of payment as you used for the initial transaction, unless you have expressly agreed otherwise; in any event, you will not incur any fees as a result of such reimbursement.

— 'We may withhold reimbursement until we have received the goods back or you have supplied evidence of having sent back the goods, whichever is the earliest.'.
— 'You shall send back the goods or hand them over to us, without undue delay and in any event not later than 14 days from the day on which you communicate your withdrawal from this contract to us. The deadline is met if you send back the goods before the period of 14 days has expired.'
— 'You will have to bear the direct cost of returning the goods.',
— 'You are only liable for any diminished value of the goods resulting from the handling other than what is necessary to establish the nature, characteristics and functioning of the goods.'
Model withdrawal form:
To:
Siccas Guitars GbR
Roonstr. 31
76137 Karlsruhe,
Germany
Email: info@siccasguitars.com
— I/We (1) hereby give notice that I/We (1) withdraw from my/our (1) contract of sale of the following goods (1)/for the provision of the following service (1),
— Ordered on (1)/received on (1),
— Name of consumer(s),
— Address of consumer(s),
— Signature of consumer(s) (only if this form is notified on paper),
— Date (1)
Delete as appropriate.
7. REFUNDS POLICY
When you return goods to us because you have cancelled the contract between us during the cooling-off period we will process the refund due to you as soon as possible and, in any case, within 14 days of the day on which notice of your cancellation was given. We will refund the price of the goods in full, including the cost of sending the item to you. However, you will be responsible for the cost of returning the item to us.
If you are not satisfied with a product for any reason e.g. if it is not what you ordered, it is damaged or defective, or we have delivered an incorrect quantity, please return the product to us. Once we have confirmed the product defect or other problem, we will:
– provide a full refund for any goods that are damaged or defective, if this is within a reasonable time following the sale; or
– at your option, repair or replace the goods at our cost (including the cost of postage), unless this would not be possible or would be disproportionately costly in the circums-tances, in which case we will refund to you the amount paid for the goods in question.
We will notify you of your refund via e-mail within a reasonable period of time. We will usually process the refund due to you as soon as possible and, in any case, within 14 days of the day we confirmed to you via e-mail that you were entitled to a refund for defective goods.
We will usually refund any money received from you using the same method originally used to pay for your purchase.
8. CANCELLATION BY US
We reserve the right to cancel the contract between us if, for example:
– we have insufficient stock to deliver the goods you have ordered;
– we do not deliver to your area; or
– one or more of the goods you ordered was listed at an incorrect price due to a typo-graphical error or an error in the pricing information received by us from our suppliers.
If we do cancel your contract we will notify you by e-mail and will recredit to your account any sum deducted by us from your credit or debit card as soon as possible but in any event within 14 days of your order.
9. TITLE AND RISK
You will become the owner of the goods you have ordered when they have been delivered to you and we have received clear funds in full payment for the goods. Once goods have been delivered to you they will be held at your own risk and we will not be liable for their loss or destruction.
10. LIABILITY
We are not responsible if you cannot access the site properly or at all because of any event outside our control, for example (without limitation) the performance of your or our ISP, your browser or the internet.
This site relies in part on software to work. Whilst we will monitor the site, we cannot guarantee that the site or any individual feature of the site will be error free, available all the time and/or free from viruses. It is your responsibility to implement appropriate IT security safe-guards (including anti-virus and other security checks) to satisfy your particular requirements as to the safety and reliability of content.
Nothing in these terms will affect any liability we may have: (a) for fraudulent misrepresentation; (b) for death or personal injury arising from our negligence: (c) under Part I of the Consumer Protection Act 1987; (d) for breach of any condition as to title or quiet enjoyment of or in relation to any goods supplied by us; or (e) in relation to any other liability, including any liabilities under sale of goods or supply of services legislation, that may not by applicable law be excluded or limited.
11. EVENTS BEYOND OUR CONTROL
We will have no liability to you for any delay in delivering goods you have ordered that is caused by any event or circumstance beyond our reasonable control including, without limitation, strikes, lock-outs and other industrial disputes, breakdown of systems or network access, flood, fire, explosion.
12. INVALIDITY
If any part of these terms is unenforceable, the enforceability of any other part of these terms will not be affected.
13. LAW AND JURISDICTION
These terms are governed by German law. Any contract for the purchase of goods from this site and any dispute or claim arising out of or in connection with any such contract will be governed by German law.
14. NOTICES
All notices you send us must be sent to the contact details on this email address: info@siccasguitars.com. We may give notice to you at either the e-mail or postal address you provide to us when making a purchase. [Notice will be deemed received and properly served 24 hours after an e-mail is sent or three days after the date of posting of any letter.] In proving the service of any notice, it will be sufficient to prove, in the case of a letter, that the letter was properly addressed, stamped and placed in the post and, in the case of an e-mail that the e-mail was sent to the specified e-mail address of the address.