Fender / Custom Telecaster / 1967 / Olympic White / Guitar For Sale
Here's a guitar I never thought I would sell, a 1967 Fender 'Tuxedo' Custom Telecaster in factory olympic white w black binding and a maple cap neck!
This particular guitar as well as being a rare model, was owned and played by Midnight Oil guitarist Martin Rotsey in the 1990s. Featured on the cover of their live album 'Unplugged' being held by Rob Hirst, and seeing some live use, this was a working guitar as evidenced by the extensive wear.
Work to the guitar includes:
- Professional vintage tall refret and new nut performed by Piers Crocker for Martin in 1991.
- The original bridge pickup was rewound with new leads by Slider pickups, neck pickup is untouched from the factory.
- At one point a large jackplate was fitted, this has since been plugged with the screw holes filled. The area has touch up aged to match the factory finish with a period correct jack-cup and input jack installed.
- The pots at some point were replaced, however have now been restored with correct 250k AUD pots from '66.
Overall this guitar remains in good working condition, having a fantastic sound and feel. Its also one of a handful of known 'Tuxedo' Telecasters to have a transition logo. Your chance to own a super rare Fender guitar and a cool piece of Aussie music history!
Comes in its original Stamford import case with period bridge cover, a repro strap, and a full written report from Piers Crocker.
Joel's Vintage, Australia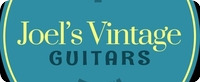 Contact name:
Joel Willing
Online vintage guitar store in Sydney, Australia.
Specialising in original Fender and Gibson guitars.
Buy/Sell/Trade/Consign, by appointment.