Fender / Jaguar / 1964 / Olympic White / Guitar For Sale
Now available on consignment,
An early 1964 Fender Jaguar that was originally custom colour Olympic White. This particular example was lovingly restored and the body refinished in nitrocellolose by its current owner.
Work to the guitar includes:
- At one point the guitar was routed for humbuckers, both routes have now been plugged and restored before the refinish.
The original unaltered black bottom pickups (B: 6.3k ohms, N: 6.4k), and tortoiseshell pickguard were kept by the previous owner.
- The decal has been replaced with light clear overspray over the original finish Olympic White matching headstock. The back of the neck has finish taken off, however retains its full '63 neck profile.
- The original brazillian rosewood fingerboard has been refretted some time ago, the inlays were replaced at this time.
- The pots and cap are period NOS replacements from November of '63.
- The input jack, switches, and rhythm circuit controls have been replaced, as has most of the wiring with vintage correct cloth pushback wire.
Otherwise this guitar retains all of its original hardware minus a period correct replacement bridge, and a few control plate screws. The original kluson deluxe tuners have been replated at some point however function perfectly.
A fantastic playing and sounding Pre-CBS Jaguar retaining untouched original pickups, and a fantastic chunky '63 neck profile!
Weighs just under 3.9kg
Includes a period mid 60s Fender case with the original tremolo arm (replaced tip).
Joel's Vintage, Australia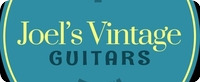 Contact name:
Joel Willing
Online vintage guitar store in Sydney, Australia.
Specialising in original Fender and Gibson guitars.
Buy/Sell/Trade/Consign, by appointment.