Fender / Nocaster `51 Custom Shop / 2003 / Guitar
Fender `51 "Nocaster" Relic Custom Shop
Overall condition/repairs/modifications:
-awesome "Nocaster" relic W/chunky U -profile neck
-clean tweed case and COA
-excellent tone even acoustically
-original wiring
Kitarakuu Oy, Finland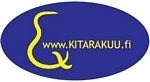 Contact name:
Seppo Kaskenmäki
Languages:
Finnish and English
Specialties:
Vintage guitars, amps, effects, parts...etc...
Opening hours:
Most of the time...Please, call!
Well USED and 2ndhand guitars, amps and stuff + service/repair
Mastery Bridge, Klein Pickups, Tonerider Pickups, Original Bigsby Tremolos,Mad Professor Amplification, Mad Professor pedals
Please email or call regarding ordering. International Money Order, PayPal.