Fender / Precision Bass / 1963 / Olympic White / Bass For Sale
Now available, a super cool and well played early 1963 Fender Precision Bass with a period body only refinish in Olympic White!
The finish on this guitar appears to be a very early refinish done here in Australia, most likely done by an auto-shop looking at the grey primer and duco lacquer used.
This particular bass retains all of its original parts minus the strap buttons, having a fantastic sounding splitcoil black bottom pickup.
The original wiring harness remains untouched except for an added ground wire over the original stackpole pots (52nd week of '62), and for the pickup leads being clipped and reattached when the refinish was done many decades ago.
The neck remains completely untouched original dating to February of '63. The original frets play surprisingly well and the neck has a fantastic worn in feel.
Weighs just over 4kg.
Overall a fantastic playing original pre-CBS p-bass that looks and feels like a factory olympic white finish.
Includes its original stamford import case in good working condition.
Joel's Vintage, Australia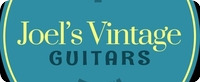 Contact name:
Joel Willing
Online vintage guitar store in Sydney, Australia.
Specialising in original Fender and Gibson guitars.
Buy/Sell/Trade/Consign, by appointment.