Fender / Stratocaster / 1963 / Sunburst / Guitar For Sale
Now available, a stunning early 1963 Fender Stratocaster in its original vibrant 3-tone sunburst finish!
This particular example made its way to Australia from Canada fairly recently, being an export sold there new.
The guitar has an early L0xxxx serial number featuring the wider dot inlay spacing at the 12th fret, and a centre screw hole nitrate celluloid pickguard both of which change slightly later in this year. All of the hardware remains correct except for some replaced bridge saddle height adjustment screws. The original finish does not have any touchup or overspray, however there is some heavy play wear as shown in the photos.
Other than the formentioned screws, the guitar remains totally original down to the original frets and nut. There is significant play wear so a refret is recommended, however the guitar still plays up and down the neck with a fairly low action. The back of the neck also has most of the finish taken off having a full '63 profile.
There is some solder touchup on the volume pot, however the harness otherwise appears untouched. The visible pot dates are the 15th week of '63, which is consistent with a neck date of March and a body date of May. The original pickups are healthy and have the following outputs (ohms):
B: 6.1k
M: 5.9k
N: 6.0k
Comes in its original Canadian export case, includes its original bridge cover and tremolo arm.
Joel's Vintage, Australia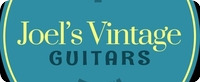 Contact name:
Joel Willing
Online vintage guitar store in Sydney, Australia.
Specialising in original Fender and Gibson guitars.
Buy/Sell/Trade/Consign, by appointment.