Fender / Stratocaster Thinline Eric Johnson Signature / 2018 / Guitar For Sale
Fender Stratocaster Thinline Eric Johnson Signature 2018
Awesome strat-vision!
Quartersawn neck, "Soft V" –profile
Fretboard radius: 12″
PU`s DC-resistances KΩ: B 6,8/M 6,3/N 5,8
Original case, necessity bag +paperwork, COA
Kitarakuu Oy, Finland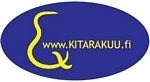 Contact name:
Seppo Kaskenmäki
Languages:
Finnish and English
Specialties:
Vintage guitars, amps, effects, parts...etc...
Opening hours:
Most of the time...Please, call!
Well USED and 2ndhand guitars, amps and stuff + service/repair
Mastery Bridge, Klein Pickups, Tonerider Pickups, Original Bigsby Tremolos,Mad Professor Amplification, Mad Professor pedals
Please email or call regarding ordering. International Money Order, PayPal.