Fender / Telecaster Blonde / 1951 / Blonde / Guitar
The guitar was bought in 2012 at Guitarpoint and hasn´t get any playtime since.
Here is the original description :
1951 Fender Telecaster - Blond incl. orig. "Thermometer Case"
There is a little story on this Instrument, as it is a all original 51 Telecaster with untouched solderpoints and no changed parts, but the neck dates to 1954(!). We got it from the owner who bought this Tele allrady in the early 80s like it is. Maybe some previous owner traded necks because the original 51 neck was to big? The 54 neck is definately original and blacklights correct, the frets have been changed, the fretboard has been leveled to a bigger radius. The front of the fretboard has been refinished after the refret, the back of the neck as well as the hedstock (front and backside) show its original finish under blacklight. Unfortunately not the matching neck, therefore 1/2 price !
Techn. details:
solid ash body,
1-piece medium-profile mapleneck with skunkstripe from 1954,
maple fretboard with 21 frets,
Silver Fender "Telecaster" -Logo on headstock,
6x orig. Kluson "Singleline" Tuners,
2 original Fender singlecoil pu´s,
1x volume, 1x tone, 3-way crl-switch,
Fender combined bridge/tailpiece with 3 pairs of brass double-saddles,
black bakelite pickguard,
Sweetspot Guitars, Germany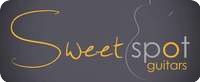 Contact name:
Christian Sedelmayer
Languages:
German & English
Opening hours:
By appointment
I am specialized in the acquisition & sale of beautiful, unique and rare guitars. Spot is on Gibson and Fender with attention to the Custom Shop models especially in full, proofed and original condition. 

Sweetspot Guitars will excite, inspire & create confidence! 

My clients should look forward to their instrument with precise information & photos, consulting & handling. 

I have played & collected for many years and spent a lot of money. The knowledge of the instruments and the passion for it, I would now like to get to the point with my shop. 

Every guitar that I offer is chosen, with the utmost care to authenticity verified, and have been adjusted. And it arrives at your home in described condition with bill & 14 days return option. Pickup here at Lake Constance Area is also welcome! 

On request and at an additional cost, we modify each guitar to the exact customers request from pickup over setup to aging etc., either on-site or with one of our known guitar luthiers with which we cooperate. 

I will get the most beautiful & rarest used and new guitars of the world here in the Lake Constance region and strive to get long-term Customer Relations! From time to time I will also order small and fine special editions of Instruments - For example it is planned to work together with MJT USA on relic Telecaster and Stratocaster guitars and parts. 

We, Sweet Spot Guitars, are pleased about every offer, every request and every Customer! 

Hand, heart & instrument belong together
Christian Sedelmayer