J.L.G. / Custom Series / 2017 / Candy Appl Red/Nitro/Glossy / Guitar
DESCRIPTION:
This guitar is having classic shape and with little twist in options. Guitar is finished with very thin Glossy Nitro coating (Candy Apple Red). Guitar is equipped with TV Jones Brian Setzer Signature pickups which are giving unigue sound on this instrument. We added also 3-way toggle switch to support pickup switching combinations together with one master volume and one master tone. We included as compliments one of our own design 3-ply black pickguard what customer can choose to install or leave guitar without it. Guitar ships with Matched J.L.G. Leather strap, see the pictures for more details.
SPECS:
Swamp Ash body

Maple Neck, 10" RAD Medium Frets, C-profile

Glossy Candy Apple Red nitro finish (very thin)
TV Jones Brian Setzer Signature pickups
CTS 500k Vintage pots
Orange Drop 0.22uf cap
Switchgraft 3-way toggle switch, Switchgraft mono jack, copper isolation in control cavity
J.L.G. Engraved neck plate
Gotoh chrome knobs
Gotoh vintage tuners
Fender Hardtail Bridge, string trough body, Gotoh Ferrules
Ships with compliment J.L.G. Black 3-ply pickguard
D'Addario NYXL1149 strings
J.L.G. Tweed Hard Case by Stagg and J.L.G. beige hat

Matched J.L.G. Leather strap.

Cetrificates, wiring diagram and user guide
Ships worldwide
Regarding VAT. We can deduct VAT in cases that customer is having business registered inside EU VAT Program except the Finnish business customers. If you have EU VAT ID, please communicate that to us and we provide correct price. If you are located outside EU, VAT is deducted away, let us know your location. In case you have anything to ask, please do not hesitate to contact us via email to: info@jlg.fi or using Vintage and Rare contact feature.
J. Leachim Music, Finland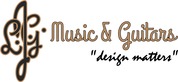 Contact name:
Jan-Michael Merivirta
Languages:
English, Finnish
Specialties:
Relic and new guitars, custom designed electric guitars
Company profile:
J. Leachim Music was founded 2014 in Riihimäki, Finland. J.L.G. = J. Leachim Guitars is part of J. Leachim Music Company.
Ideology of the J.L.G. Guitars is to gather or custom order best price/quality parts from markets. We then apply our design and finish to them and made totally unique looking and sounding instruments.
Guitars:
Background of our J.L.G. Guitars



Slogan "Design Matters", is our corner stone for everything. Our main focus is to make totally unique finished guitars in decent price range.

We do different level reliced guitars either by using totally new quality parts from our suppliers or by using older vintage parts which are in good shape.

Alternatively we can use customers own parts or guitars as a base for the work. It is up to you which direction to choose. Sky is the limit.
J.L.G. Guitars are mainly Reliced & Aged or Glossy Solid Body Electric Guitars and Basses, either from Scratch or by using customers existing guitar.
If you want bit more Street Credible instrument for you and your band, please contact us and we can design your dream guitar or bass together.
Sound
As the "Design Matters" Slogan is our corner stone for finishing, how good your guitar sounds, it's even more important. One main thing why our guitars have a lots of sustain and very open sound is that we use as few coats of laquer as possible. You may think what happens to drum, if you coat it with 2mm plastic pack and seal it. It sounds muddy. Same with thick coats of laquer, it kills the wooden tonality. Many factories use a lot of PU laquer to get easily flat top to the quitars.
When we age for example old factory made instruments, we first remove (sand) coats as much as possible away to get the wooden sound out of the instrument.
Parts
We only use good quality parts from our suppliers. For example in Hardware, we only use Fender, Kluson, Gotoh, Schaller, Wilkinsson and WD parts.
For Pickups, We use our own import Mojotone USA pickups, Fender or Fender Custom Shop, Seymour Duncan, Rebel Relic, DiMarzio, Lindy Fralin, TV Jones and few Custom Finish made pickups (Aurora Guitars/Kai Seppälä).
For the Electronics we only use CTS USA pots and quality capasitors + cloth vintage wires.
Service & Maintenance:
We also provide guitar & bass services and maintenance. If your instrument has lost its sound, (MOJO) and playability , please contact and let's see what is the best way to get them back. If you want regular maintenance, for example neck adjust, fret leveling, changing pickups, new electronics, and similar tasks, please contact and lets see what is needed. Our Price catalog for maintenance and other duties can be found from our website at jlg.fi
Shop:
Our shop is located at Municipal Kanta-Häme, Riihimäki at address: Jahtivoudintie 6, 11130 RIIHIMÄKI.
You can find us either by contacting via email at info@jlg.fi or by calling to us +358405666262.
Domains included for our website are: jleachim-music.fi, jleachim.fi and jlg.fi. You may use each one to access our website.
We are also in Facebook and Instagram, check facebook.com/jleachimmusic and instagram.com/jleachimmusic
Please contact us in case you have any special requirements for the product or shipping or anything related before purchase.