Marceau Guitars / Lucky Peterson Signature / 2000's / Oil / Wax / Guitar For Sale
This signature guitar was designed with the blues genius Lucky Peterson back in 2008.
As he almost exclusively played on an ES-335, we revisited this classic model and we came up with this guitar and a new humbucker set, designed especially for him.
Being a signature model, options on this model are non-negotiable.
Marceau Guitars, France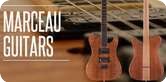 Contact name:
Tom Marceau
Languages:
French - English
In 2008, a life-changing meeting with Lucky Peterson occurred. After trying out one of my guitars, he soon ordered a first signature model from me. I am still very grateful for his trust back then, when I was a beginner in the art of crafting instruments.As more and more orders were made, I decided to settle in the north of Rennes, France, and to open a workshop the same year. Marceau Guitars was born.Then, I started participating in many events as the brand began to be known (Paris Music congress in 2008, Musikmesse in 2009, etc.)