Valenti Guitars / Antares 7 Fanned Custom / Emerald Green / Bass
-Valenti Guitars Antares 7 Custom.
-More info: www.valentiguitars.com or info@valentiguitars.com
-SPECS:
Construction:
Strings: 7
Scale Lenght: Fanned 33.5"-37"
Neck Joint: Bolt On
Top Carve: Flat
Woods:
Neck: 7 ply Laminated Flamed Maple-Wenge, Double Truss Rod
Body: Swamp Ash
Top: Quilted Maple Master Grade
Fretboard: Flamed Maple
Headstock veneer: Quilted Maple Master Grade
Inlays
Escher Cube Fretboard Inlay and Side Dots, in Black and White Mother of Pearl
Hardware:
Bridge: ABM Single Saddles Black
Tuners: Hipshot Ultralite Black
Strap Buttons: Schaller Locking Black
Knobs: Metal Black
Nut: Buffalo Horn
Electronics:
Pickups: Delano Custom Set
Wiring: Bridge Volume, Neck Volume, Sonar3 EQ Highs-Mids-Lows Control Knobs
Finish:
Emerald Green top and Headstock Stain, High Gloss Lacquer
Valenti Guitars, Italy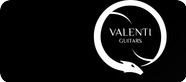 Contact name:
Luigi Valenti
Languages:
Italian & English
Specialties:
Handmade Guitars, Basses, Pickups
Valenti Guitars is based in Italy and run by experienced luthier Luigi Valenti.
Valenti Guitars aims to create instruments that are pieces of art by themselves. Where nothing but aesthetic perfection is allowed, Valenti Guitars are constructed to be an extension of the musician's imagination and skills, thanks to uncompromising sound and playability.Personally selected tonewoods with more than 10 years drying process, top quality hardware and handwound pickups made specifically for each instrument, are the ingredients that you'll find on every Valenti guitar.
The customer is then involved in every step of the designing process, allowing maximum freedom of choice between standard and custom options for each model, in order to create a bespoke instrument every time.