Valenti Guitars / Nebula Carved Ex Demo Price / 2019 / Trans Black / Guitar
Brand New Valenti Guitars - Nebula 6 Carved. This guitar is a one-off and has been built for the 2019 "Vintage & Rare Boutique Guitar Showcase Tour".
SPECIFICATIONS:
-Scale: 25"
-Construction: Set in
-Top Carve: Full Carve
-Neck: Indian Rosewood Quartersawn with Carbon Fiber Reinforcements
-Fretboard: Indian Rosewood with Maple Binding
-Top: Flamed Maple
-Body: Mahogany
-Bridge: Schaller Sigma
-Tuners: Schaller Grand Tune Fleur de Lis
-Frets: Jescar Jumbo Stainless Steel
-Nut: Resin Composite
-Pickups: Valenti Skoll Custom
-Wiring: 3 way switch, Master Volume, Master Tone with Coilsplit
-Finish: Trans Black Top, Solid Black Back, High Gloss Top, Satin Back.
Valenti Guitars, Italy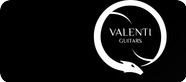 Contact name:
Luigi Valenti
Languages:
Italian & English
Specialties:
Handmade Guitars, Basses, Pickups
Valenti Guitars is based in Italy and run by experienced luthier Luigi Valenti.
Valenti Guitars aims to create instruments that are pieces of art by themselves. Where nothing but aesthetic perfection is allowed, Valenti Guitars are constructed to be an extension of the musician's imagination and skills, thanks to uncompromising sound and playability.Personally selected tonewoods with more than 10 years drying process, top quality hardware and handwound pickups made specifically for each instrument, are the ingredients that you'll find on every Valenti guitar.
The customer is then involved in every step of the designing process, allowing maximum freedom of choice between standard and custom options for each model, in order to create a bespoke instrument every time.