Yamaha (japan) / 9000 Recording Custom / 2000 / Cherry / Drum For Sale
Yamaha 9000 Recording Custom BOP drumset 18"-10"-12"-14", made in Japan ,
For sale atwww.purplechord.com
Amazing mint, as new condition for this fantastic and rare set, made in Japan in 2000, one of the latest coming from the Japanese plant.
Cherry finish
Drum sizes:
Bass Drum: 18" x 14" Model: BD918YJ # HIZ0646
Tom: 10" x 7,5" Model: TT910YJ # HI01104
Tom: 12" x 8" Model TT912YJ # HJK1954
Floor Tom: 14" x 14" Model FT914y # HHY2295
New Remo Ambassador Coated and original Yamaha clear resonant heads
New Remo Powerstroke 3 Coated and original Yamaha black resonant heads
The Yamaha 9000 Series Recording Custom's 100% birch shells combine a high gloss lacquer exterior finish with a hand-rubbed stain interior. The 7-ply bass drums and 6-ply tom toms have straight sided walls, allowing unimpeded sound projection. This is further aided by the perfect 45 degree bearing edges. The shells are manufactured using our Air Seal System where the wood plies, with staggered diagonal seams, are sealed together under evenly distributed air pressure. This ensures that all Yamaha shells are the model of consistency and durability.
Birch shells deliver a lower fundamental tone than maple. As a result, they project a warm, rounded sound with a slightly shorter decay, ideal for the controlled environment of the studio. The legendary RC is consequently the most recorded drum kit of modern times. The controlled sound is further helped by sleek, one-piece Hi-Tension heavily chromed lug casings. Precision machined lug nuts provide noise-free operation due to their spring-less casing design.
Yet another innovation of the 9000 Series Recording Custom series was the floor-stand suspended tom tom, pioneered by the world's number one studio drummer, Steve Gadd. This funky type of mount, at first designed for Steve's shallower floor toms, led to the now universal adoption of the 'fusion' style shell pack.
The Yamaha Recording Custom 9000 is today improved even further by the addition of YESS (Yamaha Enhanced Sustain System) mounts. YESS minimizes tom mount-to-shell contact thereby increasing resonance and maximizing dynamic range and sustain.
Purple Chord, Netherlands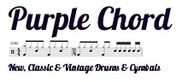 Contact name:
Beppe Quiroli
Languages:
English, Italian, Dutch, Spanish
Specialties:
Drums, snare drums, drumsets, cymbals, drum accessories, cymbals accessories, drum hardware
Purple Chord is a product of Beppe Quiroli's passion for classic and vintage Ludwig drums and Paiste and Istanbul cymbals.
​Purple Chord's mission is to source and sell key collectable pieces from the classic and modern era of Ludwig and Paiste productions and Istanbul cymbals.
Of course, there are many other classic drum producers which we can't ignore either, and we do have some pieces from other major brands.
Our buyers are amateur and professional drummers, all with a love of Ludwig, Paiste and Istanbul products, and classic and vintage drums in general.
Our products are in excellent condition, fully re-conditioned and ready to play or simply to be admired!
Check our website www.purplechord.com
Terms and Conditions of Website Use www.purplechord.com
Please read these terms of use carefully before you start to use the site. By using our site, you indicate that you accept these terms of use and that you agree to abide by them. If you do not agree to these terms of use, please refrain from using our site.
1 OUR SITE CHANGES REGULARLY. We aim to update our site regularly, and may change the content at any time. If the need arises, we may suspend access to our site, or close it indefinitely. Any of the material on our site may be out of date at any given time, and we are under no obligation to update such material.
2 INFORMATION ABOUT US. Purplechord.com is a site operated by Purple Chord ("We"); we are a Partnership Company, Vennootschap Onder Firma (VOF), registered in The Netherlands at the Dutch Chamber of Commerce (Kamer van Koophandel) under registration number KvK 57538360. Our registered office is Zetveld 44, 1182KE, Amstelveen, The Netherlands. Our BTW number is NL852624931B01.
3 INFORMATION ABOUT YOU AND YOUR VISITS TO OUR SITE. We process information about you in accordance with our privacy policy. By using our site, you consent to such processing and you warrant that all data provided by you is accurate.
4 GENERAL TERMS
4.1 The purchaser of products will be further referred to as the ''Purchaser".
4.2 The products that are available through Purplechord.com will be referred to as the ''Product"
4.3 All products of Purplechord.com are subject to the following delivery and payment terms.
4.4 In addition to these general conditions, Purplechord.com reserves the right to apply additional conditions to specific transactions, at discretion.
4.5 The conditions detailed herein shall prevail at all times above that of the buyer, irrespective of whether the conditions of the buyer are in conflict or differ from Purplechord.com
5 ORDERING
5.1 A contract shall be established through receipt of the order confirmation from Purplechord.com via internet, e-mail or otherwise.
5.2 Purplechord.com retains the right not to accept orders. The despatch of the order shall be made only after prepayment by the purchaser.
6 PRICING
6.1 Purplechord.com reserves the right to make changes to advertised offers.
6.2 All listed prices are inclusive of BTW (VAT), where applicable, and delivery charges, unless otherwise indicated.
6.3 The prices as listed for all products on the website are subject to change or typographical error. Purplechord.com reserves the right to inform the purchaser if this is the case.
6.4 The products of Purplechord.com are delivered at the prices prevailing at the date of the order.
7 PAYMENT TERMS
7.1 The general rule is that delivery is made only after payment is received from the purchaser, unless otherwise expressly agreed. Payment can be made by direct bank transfer or by Paypal, as agreed with the Seller.
7.2 In the case that Purplechord.com sends an invoice, payment shall be made within 14 days of the invoice date unless otherwise agreed in writing. If full payment is not received by the due date (14 days after delivery to purchaser), interest payable of 10% of the outstanding amount will be payable per month without prior notice.
7.3 Products supplied by Purplechord.com remain the property of Purple Chord until the full purchase price has been met.
8 DESPATCH
8.1 Purplechord.com undertakes to despatch products in agreement with the purchaser to an address specified by the purchaser.
8.2 The purchaser bears the responsibility to provide accurate delivery information and to specify clearly the address where the product is despatched. Purple Chord is not responsible for undelivered products.
8.3 If the purchaser, at the time of delivery, refuses to accept the products, they are returned to Purplechord.com. The shipping costs, etc. payable by the purchaser.
9 LIABILITY
9.1 The material displayed on our site is provided without any guarantees, conditions or warranties as to its accuracy.
9.2 We do not accept liability for any loss or damage that you suffer as a result of using this Website.
9.3 Purplechord.com is in no way liable for damage to products by incorrect treatment, incompetence, incorrect assembly, and incorrect use.
9.4 Purplechord.com is in no way liable for any (dis)assembly costs.
9.5 Purplechord.com endeavours to guarantee the safe delivery of the product to the purchaser. Purple Chord does not accept the return of products once delivered to the specified delivery address unless otherwise agreed with the purchaser.
9.6 Where our site contains links to other sites and resources provided by third parties, these links are provided for your information only. We have no control over the contents of those sites or resources, and accept no responsibility for them or for any loss or damage that may arise from your use of them. When accessing a site via our website we advise you check their terms of use and privacy policies to ensure compliance and determine how they may use your information.
10 INTELLECTUAL PROPERTY RIGHTS
10.1 We are the owner or the licensee of all intellectual property rights in our site, and in the material published on it. Those works are protected by copyright laws and treaties around the world. All such rights are reserved.
10.2 You may print off one copy, and may download extracts, of any page(s) from our site for your personal reference and you may draw the attention of others within your organisation to material posted on our site.
10.3 You must not modify the paper or digital copies of any materials you have printed off or downloaded in any way, and you must not use any illustrations, photographs, video or audio sequences or any graphics separately from any accompanying text.
10.4 Our status (and that of any identified contributors) as the authors of material on our site must always be acknowledged.
10.5 You must not use any part of the materials on our site for commercial purposes without obtaining a licence to do so from us.
10.6 If you print off, copy or download any part of our site in breach of these terms of use, your right to use our site will cease immediately and you must, at our request, return or destroy any copies of the materials you have made.
11 JURISDICTION AND APPLICABLE LAW
11.1 Any disputes arising from the use of this site are governed by Dutch law. In disputes between the buyer and Purplechord.com the judgment of the Dutch courts will be binding.
12 VARIATIONS
12.1 We may revise these terms of use at any time by amending this page. You are expected to check this page from time to time to take notice of any changes we have made, as they affect you. Some of the provisions contained in these terms of use may also be superseded by provisions or notices published elsewhere on our site.