Rhonda Harris / Rhonda Harris (colored) / Wouldn't Waste Records / WWR-07 / 2018 For Sale
Size: LP
Speed: 33 1/3 rpm
Record condition: Mint
Sleeve condition: Mint



The classic debut from cloudland originally released in 1995. There will be a limited colored press like usually only to be fetched at the homepage.
All records will this time be numbered individually - don't ask for specific numbers, first come, first served.

Shipping for is 13 anywhere in the world for up to 2kg, that means up to 7 lp's for this price.

Registred shipping is 18 euros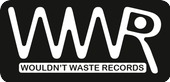 Contact name:
Claus Kristensen
Languages:
Danish & English
Wouldn't Waste Records

A small independent record company located in Denmark - we concentrate mainly on music we love ourselves. All records are pressed on quality vinyl made by either MPO in France or Optimal in Germany.
We try to deliver what we love about vinyl. For instance we do not like each side of the record to be too short, so for our first release we choose 3 playable sides vinyl instead of 4 short sides.

We also stock a small amount distributed items. We will not stock any music we do not care about ourselves - so what we sell is approved by Wouldn't Waste Records ;-)