AJL Guitars / 17 / 2011 / Sunburst, Bordeaux, Natural Or Vintage Natural / Guitar
17 " Maple Archtop Guitars check : http://www.ajl-guitars.com/archtop.html
Here is an example of Sunburst flamed maple 17" archtop
Customer have chosen AJL-Swingmaster handmade singlecoil + exclusive two-tone handmade lizardcase with faux tigerskin interior
check case from http://www.ajl-guitars.com/case.html
Technical data
Scale length: 25 1/2"
Body size: 17 inch
Neck: Solid masterclass flamed maple, two piece, rosewood stripe
Neck dimensions: 43mm at the 0-fret, 54mm at the 14th fret
Top: Solid European spruce
Back and sides: Solid masterclass flamed maple
Fingerboard: Ebony with m.o.p. inlays and side dots
Bridge: Brazilian rosewood with gold plated thumbwheels
Frets: Dunlop
Hardware: Grover Imperial tuners, Fingerstyle tailpiece. All gold-plated
Truss-rod: two-way adjustable
Inlays: Genuine Mother of pearl
Pickguard: Bound tortoise-style with hidden volume control.
Finishing options: Natural, Aged, Traditional sunburst, Tobacco sunburst. Bordeaux
AJL Guitars, Finland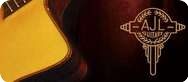 Contact name:
Ari-Jukka Luomaranta
Languages:
Finnish & English
Specialties:
Exclusive Handcrafted Guitars
Opening hours:
8 am - 4 pm
AJL-Guitars
AJL-Guitars are handbuild in Finland by Master luthier Ari-Jukka Luomaranta. AJ has been specialized in Gypsyguitars long time, but also builds archtops. He is also known as guitarplayer and producer.
AJL Premium-class Gypsyguitars are known worldwide, they're built traditionally and are very close to original Selmer guitars from 30's and 40's.
His model X-O is said to be closest to original Selmer than any other guitar.
Modern technology is used to make wood sound like old. They're played by many top gypsyjazz players.
Special service - select your own brazilian rosewood
AJ is know to be specialized brazilian rosewood. Check the website at http://www.ajl-guitars.com/woods.html You can see current selection of laminated backs & sides and choose yours - and the guitar will be built for you from that particular wood.
His brazilian rosewood is CITES proven "pre-copnvention" stock, and You always get CITES paperwork with your guitar, and you will not end up in troubles with it !
Guitars are also built with backs & sides in Pao Ferro, Maple & Indian rosewood.
Guitars also always include Handmade AJL-Fiberglass case, for archtops, some exclusive options for cases too at http://www.ajl-guitars.com/case.html
Guitars are very seldom available on stock, waiting list usually from three months to one year
Please see link here:
http://www.ajl-guitars.com/ordering.html