Fender / Custom Shop Precision 1963 / 2020 / Sherwood Green / Bass For Sale
The Fender Custom Shop 63 Precision Bass Journeyman Relic in Aged Sherwood Green is a stunning tribute to one of Mr. Fender's most revered designs. An instrument whose trademark thump and growl has graced the grooves of countless records in all genres of music since its introduction. From country to blues, rock & roll to metal to hip-hop, the Precision bass has done it all.
This Bass's Journeyman Relic finish evokes the idea of a decades old workhorse of an instrument. One that's seen countless gigs and sessions over the years. Well loved, well taken care of, but heavily used like a real working bass should be.
Features like the '60 Style Oval "C" neck profile, Vintage Style Tuning Machines and Vintage Style P-Bass Bridge completely evoke the idea of playing a truly decades old, well maintained instrument. The Hand-Wound '62 P-Bass pickup wonderfully recreates the 1962 original, delivering the full booming lows, punchy mids and clear high end of this iconic instrument.
Comes with all case candy, CS case and certificate
Vintage Bass Room, UK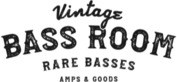 Specialties:
Vintage Basses Amps and goods
Here at Vintage Bass Room we carry one of the best collections of vintage and rare basses in the U.K. We also offer U.K. and EU delivery too using our own courier to ensure safe delivery for peace of mind. Worldwide shipping available too