Fender / Stratocaster / 1957 / Sunburst / Guitar For Sale
Here's a cool guitar, a very old 50s body nitro refin 1958 Fender Stratocaster with a late 1957 'V' neck with a tonne of play wear and vibe.
Work to the guitar includes:
Neck looks to have been swapped, dated 12-57 (hard to see) from the factory. However was sent back in approx. '61-'62 for a refinish. This is supported by the stamped numbers on the heel, and the decal had patent numbers that are now removed (as pictured). At one point schallers were installed (now stock klusons), and there is a jumbo refret with a new nut. The neck has 60 years of play wear and feels nearly identical to an original finish neck.
All 3 pots have been replaced with stackpoles dating to the 43rd week of 1960, the switch and cloth wire in the control cavity have also been replaced. The backplate is a replacement.
Otherwise this guitar features 3x original north polarity black bottom pickups with original leads, original 1ply pickguard and plastics, full tremolo assembly, neckplate, screws, input jack/jackplate, and strap buttons.
Comes in a early 60s stamford import stratocaster case.
This guitar is on consignment.
Joel's Vintage, Australia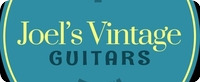 Contact name:
Joel Willing
Online vintage guitar store in Sydney, Australia.
Specialising in original Fender and Gibson guitars.
Buy/Sell/Trade/Consign, by appointment.