Fender / Stratocaster / 1965 / Sunburst / Guitar
Here we have a very well played Fender Stratocaster from early 1965, among the last of the pre-CBS guitars! This example still features the earlier mint green celluloid nitrate pickguard (cracked of course) and clay dot inlays with an L serial number.
This guitar though worn and played is in very original condition, the only changed parts are two tremolo springs, and a modern 5 way switch. This was installed due to the original being non functional (included).
The guitar has also been professionally refretted with vintage size wire, the board retains its 7.25" radius. The frets have some wear however the guitar plays great with a low action. There is a chip on the high e side of the 6th fret on the board, this does not affect playability with photos attached.
There is significant finish wear and buckle rash as seen, the stratocaster part of the logo has worn away leaving only its imprint behind.
Other than noted this guitar retains most of its original parts with the neck and pots dating to January of '65. The solder appears all untouched except for the changed switch.
Pickup readings are as follows (ohms):
B: 6.4k
M: 6.1k
N: 6.5k
Weight is at approx. 3.5kgs
A fantastic playing early 1965 Fender Stratocaster retaining the feel and tone of a pre-CBS guitar.
Comes in a era correct stamford Australian import case with the tremolo arm, backplate, and original 3-way switch.
Joel's Vintage, Australia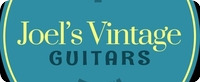 Contact name:
Joel Willing
Online vintage guitar store in Sydney, Australia.
Specialising in original Fender and Gibson guitars.
Buy/Sell/Trade/Consign, by appointment.