Fender / Stratocaster / 1965 / Sunburst / Guitar For Sale
Just in!
This late 1964/early '65 Fender Stratocaster in its original worn 3-tone sunburst finish.
This transitional model features all pre-cbs appointments including a 3ply celluloid pickguard, an October '64 neck with clay dots and an L serial plate. The pots date to the 5th week of '65, and with pickups dating to March, this guitar was completed in early 1965.
One notable issue on the guitar are some cracks that have formed between the G and B tuning pegs, these have since been professionally repaired and are stable. There is no evidence of other tuners being installed.
Otherwise this guitar retains all of its original parts right down to having worn original frets (which still play well). All of the hardware including the strap buttons is correct, as are all of the plastics and electronics with the solder appearing untouched.
A great playing original sunburst strat with all of the vibe!
Comes in a later 60s black Fender case with a period tremolo arm (replated).
Joel's Vintage, Australia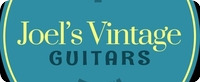 Contact name:
Joel Willing
Online vintage guitar store in Sydney, Australia.
Specialising in original Fender and Gibson guitars.
Buy/Sell/Trade/Consign, by appointment.