Fender / Telecaster / 1966 / Candy Apple Red / Guitar
Currently available is this clean and totally original 1966 Fender Telecaster in a vibrant Candy Apple Red metallic custom colour finish with a maple cap neck!
This particular example was originally found in Italy, and shows very little play wear overall for a nearly 60 year old guitar.
The guitar has its factory wiring with the dark circuit still in place, and still features its original factory large frets (only seen in 65/66) and nut with very little wear.
By this era Candy Apple Red has a firemist gold undercoat which shows through armwear on the upperbout, and some dings on the edges of the body. The solder on the wiring harness and input jack appears untouched with both pots dating to the 31st week of '66, which matches the neck date of September.
Pickup outputs (ohms):
B: 5.9k
N: 6.0k
Weighs in at just over 3.4kg
A stunning collector grade custom colour telecaster, something thats become tough to find in Australia.
Comes in its original Italian issue export case from new, includes original bridge cover.
Joel's Vintage, Australia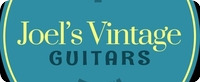 Contact name:
Joel Willing
Online vintage guitar store in Sydney, Australia.
Specialising in original Fender and Gibson guitars.
Buy/Sell/Trade/Consign, by appointment.