Gibson / 1978 Gibson ES-175D Sunburst Hollow Body ES175 ES-175 ES295 ES-295 / 1978 / Sunburst / Guitar For Sale
1978 Gibson ES-175D Sunburst Hollow Body
Known as the ultimate workhorse, the Gibson ES-175 is an iconic hollow body electric guitar loved by many legendary guitarists in the worlds of jazz, blues, rock, and fusion. The Gibson ES-175 has a recognizable sound that has been imitated by many guitar makers but seldom duplicated.
In its 70-year history, the ES-175 has become synonymous with the greats of jazz guitar.
Though the Gibson ES-175 is associated with jazz greats like Jim Hall, Pat Metheny, and Joe Pass, its versatile tone and ability to take distortion has made it a favorite of fusion and rock guitarists like Steve Howe (Yes) and Buck Dharma who played an ES-175 on Blue Oyster Cult's classic Don't Fear the Reaper.
Its tone is warm and round but also clear and articulate, chiming with a quality that is spacious and airy while also being distinct and bell-like. To achieve its characteristic clarity of tone, the ES-175 is generally played with the volume and tone dialed down a bit to allow it to ring through with its usual warmth. It is also unique among hollow body archtops for its ability to deal with higher volume levels without excessive feedback.
The guitar is also liked because of its size. Compared to other Gibson archtops such as the L-5, the ES-175 is very comfortable to play.
If you're looking for a good all-round guitar, the ES-175 might be a good choice for you.
This one is all original with the patent number engraved pickups, pots, hardware, sunburst finish etc. The case is a recent non original case.
Bees In A Jar, Netherlands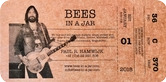 Languages:
English, Dutch, German, French, Spanish, Italian
Specialties:
Vintage Guitars & Gear
Opening hours:
Around the clock!
Bees-In-A-Jar
We take vintage serious. The look, the feel, the sound, the experience... During the years, amps, guitars, pedals and gear that have been played get that vintage feeling. They become road warrior. Pedals have seen some shoe, amps smell like 70 year old granny's breath, guitars look like they have been on a smokey bar-room floor for a decade or two...
The more road, the more gigs, the more chicken wired bars it has seen; the more we love it! We feel it's just pure 100% mojo if you hit the first chord and see how the amp trembles, old pedals scream and guitar wood shakes. It has to have the old mojo. For us, playing is all about the feeling, the fire that you once have lit and still burns ferociously.
That's how we feel about old stuff. Gasoline into fire!! If you feel the same way, thats what you'll find here... But we don't just sell true vintage instruments as we simply cannot all afford a true vintage piece of equipment. Prices have gone through the roof and are still rising to unaffordable heights.
Collectors steal them all away and store them. 90% Never gets played. But they thin the herd and consequently the prices keep rising. So that's why we also sell the new stuff, the collectibles, Custom Shop, Aged, Relic'd you name it. As long as it has that 'something special' to make it stand out.
Just because it makes you feel good! Like a new pair of vintage worn out jeans :-) An axe that roars. A fuzz pedal that screams. The one that sounds like a handful of bees...
In a jar...
Paul
Terms & conditions available upon request