Gibson / Flying V / 1992 / Cherry / Guitar For Sale
Now available on consignment,
A great looking and feeling 1992 Gibson Flying V '67 reissue in its original cherry finish. This example features early 496R and 500T humbucking pickups, a mahogany neck and body, and was a Yamano special order to Japan when new!
This guitar remains in fully original condition minus the strap buttons, having a straight neck and plenty of life in the original frets. It is free from any breaks, cracks or repairs and weighs in at 3.1 Kgs. There is evidence of a sticker on the upper body wing which is largely polished out.
Includes its original hardshell case in good condition with Yamano leather booklet and paperwork.
Joel's Vintage, Australia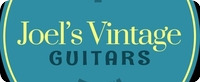 Contact name:
Joel Willing
Online vintage guitar store in Sydney, Australia.
Specialising in original Fender and Gibson guitars.
Buy/Sell/Trade/Consign, by appointment.