Gibson / Les Paul Custom / 1962 / White / Guitar
1962 Gibson Les Paul Custom with OHSC. Awesome original unmolested condition. 3 super sounding PAFs (covers never removed). All original gold hardware intact, with normal finish deterioration and flaking. This piece came in from the original owner who purchased it and played it rarely due to the eventual dislike of the low frets (Fretless Wonder). It then spent the majority of the next 50 years forgotten about in the case. The near flawless original case speaks to the minimal use of this piece (don't think it ever left the house till we took it out). No issues, no repairs - ever!!! This is the cleanest SG style Les Paul we have ever come across. A genuine survivor!!!
PCI Music, USA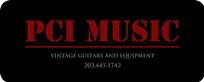 Contact name:
Steve Pastir
Specialties:
Vintage, Factory Custom Shop and Collectable Instruments and Equipment
PCI MUSIC is a boutique vintage instrument dealer.
An upmarket business, PCI MUSIC is purchaser and purveyer of superior vintage collectable guitars and instruments. PCI MUSIC provides quick, personal service, assuring a great experience every time.
BUYER and SELLER of:

Vintage and Collectable Guitars - Accoustic and Electric - All brands
Vintage Amplifiers - FENDER, MARSHALL, VOX, GRETSCH, etc.
Vintage Pedals
Vintage Organs and Keyboards -HAMMOND, VOX, FARFISA, KORG
Appraisals
Please contact us with any inquiries, and let us know about any vintage instruments and /or equipment you are interested in selling. Visit the website often, as we regulary post our latest accquisitions.
Quality and authenticity guaranteed.
Steve Pastir/Paul Gabriel
Returns: •Any Instrument Returns must be authorized by the store. •Instrument must be returned in same condition as shipped.•Buyer is responsible for the instrument during approval period. •Shipping and related expenses are non-refundable. •Buyer pays for prompt return shipping. •Item must be shipped back via a service comparable with which it was delivered, immediately upon return authorization.
Shipping: Item ships within two business days of cleared payment. Buyer pays for shipping and insurance. Shipping is based on actual cost for Ground. Overnight and 2 day is additional.
Payment: Bank wire, Bank checks or Cash on local pickup