Marshall / 1969 Marshall 4x12 1960A Basketweave Top Cabinet W/ 4 X Celestion G12M Pre Rola / 1969 / Black / Amp For Sale
This beautiful and nearly all original 1960A cabinet features the original quad of Celestion G12M T1511 25Watt 16Ohm Pre Rola greenback speakers stamped FB23, dating it to mid 1969.
- Celestion Greenback
- Model T1511, G12M, 16Ohm, 55Hz cone (even though it says 75Hz on the sticker...)
- Date Stamp FB23 (23 June 1969)
- Original pulsonic cone 3 102 014 and 4 102 014
The condition of this cab is very good with a few scuffs to the tolex but everything down to the basketweave grillcloth, metal handles, woodwork, Greenbacks, input and serial tag seem to be original from 1969, only the logo is replaced.
It has an absolute killer vintage tone, clear highs with strong lower mids. The cab is super acoustic and the speakers test perfect. All cones run free. No rub, buzz or weird stuff!!
** The cab has been tested in our shop and it sounds absolutely roaring!! **
Bees In A Jar, Netherlands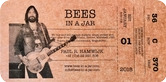 Languages:
English, Dutch, German, French, Spanish, Italian
Specialties:
Vintage Guitars & Gear
Opening hours:
Around the clock!
Bees-In-A-Jar
We take vintage serious. The look, the feel, the sound, the experience... During the years, amps, guitars, pedals and gear that have been played get that vintage feeling. They become road warrior. Pedals have seen some shoe, amps smell like 70 year old granny's breath, guitars look like they have been on a smokey bar-room floor for a decade or two...
The more road, the more gigs, the more chicken wired bars it has seen; the more we love it! We feel it's just pure 100% mojo if you hit the first chord and see how the amp trembles, old pedals scream and guitar wood shakes. It has to have the old mojo. For us, playing is all about the feeling, the fire that you once have lit and still burns ferociously.
That's how we feel about old stuff. Gasoline into fire!! If you feel the same way, thats what you'll find here... But we don't just sell true vintage instruments as we simply cannot all afford a true vintage piece of equipment. Prices have gone through the roof and are still rising to unaffordable heights.
Collectors steal them all away and store them. 90% Never gets played. But they thin the herd and consequently the prices keep rising. So that's why we also sell the new stuff, the collectibles, Custom Shop, Aged, Relic'd you name it. As long as it has that 'something special' to make it stand out.
Just because it makes you feel good! Like a new pair of vintage worn out jeans :-) An axe that roars. A fuzz pedal that screams. The one that sounds like a handful of bees...
In a jar...
Paul
Terms & conditions available upon request