Maton / Mastersound / 2012 / Satin Tobacco / Guitar
From Maton:
An incredible guitar for one of rock and roll's coolest guitar players. The BB1200 JH (Josh Homme) is everything a great rock and roll guitar should be, stylish, no nonsense, with huge tone.
This has to be up there with the most versatile sounding guitars on the market today - featuring a semi-hollow body with centre block, this guitar can do everything from Jazz to hard rock and metal.
A ferocious hollow body guitar with Victorian Blackwood front and back, along with a Rock Maple neck gives the BB1200JH maximum sustain, producing a beautifully warm and rounded tone with enough bite to give ensuring the BB1200 holds its own on any stage, anytime.
The perfect blend of tradition and an irreverent rock 'n roll attitude, this rocker can shine in any style.
Condition:
A few light dings and some play wear for 11 years old, overall excellent condition.
Little fret wear on the original frets, the guitar is setup with 10-46 gauge strings having a low easy playing action.
FULL SPEC SHEET ATTACHED
THIS GUITAR IS ON CONSIGNMENT
Joel's Vintage, Australia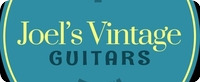 Contact name:
Joel Willing
Online vintage guitar store in Sydney, Australia.
Specialising in original Fender and Gibson guitars.
Buy/Sell/Trade/Consign, by appointment.