Rainger FX / Echo-X Digital Delay / 2016 / Effect For Sale
The Echo-X is a digital delay mini-pedal which offers unprecedented real-time control over crucial parameters.
It comes with an Igor pressure pad controller which can adjust delay speed, amount of feedback, or work as a 'send' control; while your sound is dry, as you press on Igor, the signal is diverted through the pedal's circuitry. When you release Igor you carry on playing dry while the diverted notes echo away on their own… An incredibly useful and expressive feature for everyday use!
The Echo-X has 540ms of delay time available, and has level, rate, feedback, input, and volume controls. 'Level' goes from no echo, to slightly louder than the input signal. 'Feedback' meanwhile goes from a single repeat to runaway overloading feedback oscillation.
'Input' governs the input signal, and if this is too loud the red 'overload' LED comes on and it needs to be turned down. The volume knob however can push the volume back up.
The Echo-X is housed in a Rainger FX mini-pedal enclosure, which is 0.5mm narrower than standard mini-pedal boxes, and with all sockets mounted on the top end panel. The 'OK-kickable' Igor mode switches are on the bottom end panel.
Igor
Getting its name from a previous incarnation as the Dr Freakenstein Fuzz accessory, Igor – a small, light, pressure-sensitive pad – is dual-sensitivity and works by foot or by hand. It plugs into a mini-jack socket in the top end panel.
– DELAY SPEED AND FEEDBACK AMOUNT CONTROLLED BY IGOR FOOT CONTROLLER (SUPPLIED)
– OSCILLATES GREAT AT EXTREME SETTINGS
– DOES ECHO-SWOOP EFFECTS IN REAL-TIME WHILE YOU'RE PLAYING
– 540MS OF DELAY TIME
– EFFECTS 'SEND' FUNCTION ALLOWS SOUNDS TO ECHO AWAY WHILE YOU CARRY ON PLAYING DRY
– INPUT CONTROL AND INDICATOR FOR OPTIMUM SIGNAL-TO-NOISE
– DEEPLY COOL RAINGER FX MINI-PEDAL STEEL ENCLOSURE
– MAKES ECHO 'ACCENTS' AND CRESCENDOS
– CAN GO INTO TOTAL OSCILLATION MELT-DOWN WHEN REQUIRED
– SLIGHT LOW-END ROLL-OFF OF REPEATS GIVES IRRESISTIBLE 'DUB' FLAVOUR
– NO SIDE SOCKETS AT ALL – THEY'RE ALL TOP END-MOUNTED! AMAZING!
Fuzz Monster, Denmark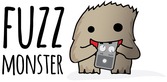 Languages:
Danish & English
Specialties:
Boutique effects pedals, synths, noise boxes, accessories, pedal boards, guitar cables, patch cables, tuners and power supplies.
Fuzz Monster - curators of the world's most weird and wonderful creative tools.
We have a huge selection of boutique effects pedals, synths, noise boxes, accessories, pedal boards, guitar cables, patch cables, tuners and power supplies.
Delivery

We ship world wide via GLS, UPS or the Danish postal service (all registered, with tracking number).
International delivery costs are flat rate and are shown after selecting the delivery country.

Delivery times

International delivery times will vary depending on the destination country. All customers will be sent an order update with package tracking details.

Import Duties outside the EU

Please note that customers outside the EU may be subject to import tax charges upon delivery. Fuzz Monster is not responsible for any import charges incurred. Please check with your country's customs rules and regulations before ordering.

Delivery price exceptions on heavy / large items

There may be extremely rare cases (i.e. orders with very large weight or dimensions), where the flat rate delivery price charged on the website will not cover the actual cost of delivery. In this case we will contact the customer to either: arrange payment for additional shipping cost; or cancel the order at their request.

Returns Policy

We offer a 14 day returns policy. The 14 days start from the day you receive the item. We ask that you please return the product in the original product packaging along with all included materials (manual, warranty card, all accessories) and in the original condition that it was received and we will provide a refund. We reserve the right to deny a refund if the items are not returned to us in their original condition.

IMPORTANT: You will only be refunded for the amount of the items purchased – the original shipping costs will NOT be refunded. And in the event of a return, the customer is responsible for the return shipping costs back to us.

Send returns to:
Fuzz Monster
Storegade 44
6880 Tarm
DENMARK

Please contact us by email first.

Warranty

When you shop at fuzzmonster.dk you have a 24 month warranty. This means that you can either get it repaired or replaced, refund or reduction in price, depending on the specific situation. Of course it is a requirement that the complaint is justified and that the defect is not caused by incorrect use of the product. The warranty covers the cost of repairs, spare parts or other replacement costs. The nature of the repair or replacement of the product depends on Fuzz Monster's assessment. Remember that the product must be properly used according to the instructions provided. You must claim within "reasonable time" after you have discovered the defect in the product. Shipping Damages shall be reported to the shipping company upon delivery.
If the complaint is justified we will refund your (reasonable) shipping costs.

The product should be sent to:

Fuzz Monster
Storegade 44
6880 Tarm
DENMARK

When you return the product, please state what the problem is in as much detail as possible.Remember that the product must always be returned in protective packaging, with a receipt provided for shipment so that we can reimburse your shipping costs. Fuzz Monster is subject to the current laws and regulations on product liability in Denmark and the EU.