Spens Guitars / BS - 5 / 2019 / Bass For Sale
Spens Guitars BS - 5 for sale
This beautiful 5 string Bass is custom made in Teak body with a Sapele neck
Amazing handcraft work to highest perfection and sound.
All Schaller Gold hardware and Gold Optima Studion strings
862 m.m scale 24 Gold frets
Please inquire for shipping to your destination.
Spens Guitars Denmark, Denmark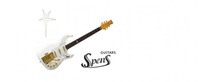 Contact name:
Bjarne Spens
Languages:
Danish English Swedish Norwegian French & ( German)
Specialties:
Biggest Burns store with the best service and fast responce.
Opening hours:
24/7 WEBSHOP
We are a new Handbuilt Guitar company in Denmark making 4 & 5 string Bass guitars. In the line we make a wonderful Guitar solid body and the most amazing Hollowbody Jazz guitar B- ES 75 All to be presented in 2018. Built with Love for you
We are the new Burns London guitars dealer in Denmark, with more than 30 new and also super fine used models ready for you, all set up for gig or as an investment! Many Burns parts and merchandise, caps, straps, Coffe mugs, original string set.
The new line to our webshop is the most fantastic Revelation Guitar, made with great precision for the PRO musician, at a price you will love. Representing Denmark, Sweden, Norway and Finland.
Look for our big stock of other great guitars, Fender, Gibson, Epiphone, Ibanez and many others.
High quality parts and strings from Schaller, Optima and other quality brands.
We repair, adjust and trade old guitars too.
Call for appointment and demonstration +45 24608245 3320 Skævinge 40 min from Copenhagen Mail: bs@bjarne-spens.dk