Fender / Custom Shop '51 Nocaster / 2018 / Blonde / Guitar For Sale
2018 Fender Custom Shop '51 Nocaster, Heavy Relic, Blonde. It has a beatiful ash body and AA quarter sawn neck with Sanko 6105 frets and a 9.5" radius with a fat V profile. Heavy wound '51 Nocaster pickups. The original owner of this guitar bought it in late 2018 and played it only a few times at home. It is in as new condition with no play wear to the frets. It comes with the certificate of authenticity, the original G&G vintage tweed case and untouched case candy. Serial R96467.
An elusive legend among Fender aficionados, the Nocaster has an interesting history. Originally called the "Broadcaster" during its initial production run in '50, it was renamed after a request from The Gretsch Company, which offered a drum set named "Broadkaster". As a cost-saving measure Fender simply cut the name off the headstock label with scissors, leaving just the famous Fender logo until late '51 when they received their new name, Telecaster. The lack of model name led to these guitars being christened "Nocasters" by collectors—very few were produced and their sound and feel are legendary among players who know.
This guitar has been set up in our workshop with a fresh set of strings and a low action. Weight 7lbs 2.5oz. Nut width: 42 mm. Depth at 1st fret: 24 mm. Depth at 12th fret:25.65 mm. 3-month warranty included.
Andy Baxter Bass & Guitars Ltd, UK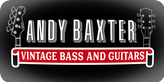 Contact name:
Andy Baxter
Specialties:
Vintage Guitars
Opening hours:
11am - 6pm / 6 days Monday - Saturday
Andy Baxter Bass & Guitars has established a name as the best place to shop for vintage basses in the UK. We're also getting a name for ourselves stocking fine vintage 6 string electric & acoustic guitars. All instruments are thoroughly checked over and set up before sale. We offer free setups for the first year after purchase.
As a reputable and knowledgeable dealer, we offer the complete variety of brands, including Fender, Gibson, Rickenbacker, Music Man, Hofner, and Vox. Vintage bass guitars with a high degree of character and investment value are our specialty. We work with musicians, collectors and dealers around the globe, and offer quick delivery worldwide.
Have a look at the website often, as our inventory changes regularly. Chances are, you'll find what you need. If you don't, contact us and using our guitar-finding service we will track down your heart's desire.
What next...
If you are happy to buy over the internet, I will send you as much information about the bass guitar you're interested in as I can, and if you require more high resolution photos dont hesitate to ask.
You can always make an appointment with me and come and try some of the Bass guitars out first. I will consider part exchange, if it makes your desired bass a little easier to afford.
Payment Options
UK & International Customers
Credit/Debit Card
Cash
Certified check / bank check
Bank transfer
PayPal
Payment by instalments
Installments / Layaway policy / Deposits
Payments are to be made on the dates agreed. If the customer fails to do so or pulls out of an agreed deal after 1 month has elapsed from the date of the first payment, 10% of the agreed sale price is non refundable. A further 10% will be added each consecutive month thereafter. Within the first month a 5% fee is applied. Andy Baxter Bass has the right to withdraw from any agreement and re list the item if payments are not made on the agreed dates. A 10% non refundable deposit will hold any guitar for 30 days. With installment / layaway / deposit agreements all sales are final, no returns, no refunds and no exceptions.
VAT/Duty/Customs Charges
Payable by consignee upon receipt of goods. We are not responsible for VAT, duty or customs charges.
Shipping
Shipping costs are in addition to the cost of your guitars or merchandise. ( unless otherwise stated) If you prefer, you can arrange shipping via your own preferred carrier. Shipping charges paid by Andy Baxter Bass & Guitars Ltd are non-refundable.
Returns
Merchandise is sold as is. Please ask all questions, view all pictures etc, before purchasing. We do not negotiate price after the sale. No exceptions. Just the same, if you find out that the guitar or gear doesn't work for you, you can return it within 48 hours. Please call or email for return authorization before shipping any merchandise back. Returned merchandise must be shipped fully insured at the customer's cost and in it's original condition. Upon receipt of the merchandise, a refund (less shipping and any other applicable fees) will be issued within 48 hours, subject to a 5% restocking fee. The restocking fees will be waived if the instrument is damaged. ALL dealers will be charged restocking fee on returns for any reason due the the common practice of reselling. Special orders are not returnable. Amplification sent overseas is not returnable under any circumstaces unless damaged upon arrival.
International Returns
Email or call for return authorization and instructions on where and how to ship the merchandise.