Fender / Stratocaster / 1958 / Sunburst / Guitar For Sale
1958 FENDER STRATOCASTER SUNBURST
Serial No.: 35981
Year: 1958
Neck Date: 8-58
Body Date: 8-58
Color: 3 Tone Sunburst
Condition: Fair
3 Tone Sunburst Strat from 1958 still with a nice and strong V-shape neck.
Road Warrior with unbelievable loud and ringing chimney bell tone.
The instrument has honest play wear with plenty dings and dongs.
Original Pre CBS features like white single-ply guard, spaghetti logo "Stratocaster with synchronized tremolo" no-PAT NO.
Single line Kluson tuners, 3 powerful single coil black bottom pickups, correct Tremolo and saddles, string-tree, input jack, strap pins and plastics.
Over the years nicely build-up patina and craceléd nitro finish makes it looking outstanding.
Maple fretboard which was refretted once, the finger board has received an updated lacquer on fretboard only.
Pot dates: 304828, 137842, 1376428
Switch: 3 way original CTR switch
Pickups readings:
Neck: 5,52k Ohm
Middle: 5,48k Ohm
Bridge: 5,59k Ohm
The guitar has an original 1958 tweed case without Fender logo with gold/yellow plush lining and perfect working latches.
It comes with a black leather strap and Tremolo Bridge Cover as Case Candy.
We have inspected the guitar and confirm that it is a genuine Fender Stratocaster from the mid 50th era.

WEIGHT : 3,07 KG
PRICE : 32.500 EURO
Sweetspot Guitars, Germany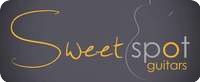 Contact name:
Christian Sedelmayer
Languages:
German & English
Opening hours:
By appointment
I am specialized in the acquisition & sale of beautiful, unique and rare guitars. Spot is on Gibson and Fender with attention to the Custom Shop models especially in full, proofed and original condition. 

Sweetspot Guitars will excite, inspire & create confidence! 

My clients should look forward to their instrument with precise information & photos, consulting & handling. 

I have played & collected for many years and spent a lot of money. The knowledge of the instruments and the passion for it, I would now like to get to the point with my shop. 

Every guitar that I offer is chosen, with the utmost care to authenticity verified, and have been adjusted. And it arrives at your home in described condition with bill & 14 days return option. Pickup here at Lake Constance Area is also welcome! 

On request and at an additional cost, we modify each guitar to the exact customers request from pickup over setup to aging etc., either on-site or with one of our known guitar luthiers with which we cooperate. 

I will get the most beautiful & rarest used and new guitars of the world here in the Lake Constance region and strive to get long-term Customer Relations! From time to time I will also order small and fine special editions of Instruments - For example it is planned to work together with MJT USA on relic Telecaster and Stratocaster guitars and parts. 

We, Sweet Spot Guitars, are pleased about every offer, every request and every Customer! 

Hand, heart & instrument belong together
Christian Sedelmayer