Fender / Stratocaster / 1959 / Sunburst / Guitar
Now available is this well played early 1959 Fender Stratocaster in its vibrant original 3-tone sunburst with a 1 piece maple neck. This example has been cared for in Australia by its previous owner for the last 2 decades, having been purchased in Los Angeles in the early 2000s.
This guitar though showing significant play wear, remains in largely untouched original condition retaining all of its original parts with except of a professional refret, a new nut, and the pickup height rubber grommets.
All of the plastics and hardware remain original, as well as the electronics with the solder appearing untouched in the control cavity. The tone and volume 250k stackpole pots work perfectly all dating to the 1st week of 1959. All 3x original black bottom pickups have their original windings, with the neck pickup having a repair in the past looking at one solder joint at the bobbin. Pickup outputs (ohms):
B: 5.65k
M: 5.60k
N: 5.48k
Weighs 3.6kgs
Typical of '59 there is no neck date, however the body date of 4/59 remains in the tremolo cavity. The neck is pretty chunky for a '59, a year usually known for its smaller neck profiles. The original decal is in great shape, and there have never been other tuners installed despite a small chip by the A tuning peg.
A fantastic looking, feeling, and sounding late 50s Fender Stratocaster among the last to feature a maple fingerboard before the transition to rosewood.
Comes with its original knuckle-buster tweed case and original tremolo arm.
Joel's Vintage, Australia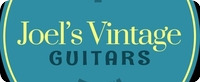 Contact name:
Joel Willing
Online vintage guitar store in Sydney, Australia.
Specialising in original Fender and Gibson guitars.
Buy/Sell/Trade/Consign, by appointment.