Fender / Jazzmaster / 1958 / Sunburst / Guitar
Heres a guitar I had been chasing for a while, a clean and original 1st year 1958 Fender Jazzmaster with the gold anodized pickguard and slab rosewood fingerboard.
This particular example is in fabulous condition overall retaining all its original parts and having a vibrant original sunburst finish with no touchup or overspray.
There is some buckle rash on the back, and some wear on the edges of the body from the last 65 years of play.
Work to the guitar includes:
- The guitar was expertly refretted last year by Piers Crocker in Sydney with vintage correct wire, no sanding or levelling was done with all play wear retained on the fingerboard.
- The neck pickup coil was rewound by Slider Pickups in Sydney, this was done to match the original coil of the bridge pickup. The original leads, magnets and bobbin remain.
Otherwise this guitar remains fully original from the factory including all of the hardware and plastics.
The electronics remain untouched except for the solder at the neck pickup. The original volume pot dates to the 41st week of '56 (common for '58s) and the tone to the 43rd week of '58. Rewound neck pickup reads at 8.3k ohms, original bridge at 8.1k.
The neck is dated to 11-58, and the body to 10-58 with a weight of 3.755kgs.
Includes its original lacquered tweed case in decent condition with all working latches and tremolo arm.
Joel's Vintage, Australia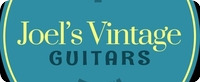 Contact name:
Joel Willing
Online vintage guitar store in Sydney, Australia.
Specialising in original Fender and Gibson guitars.
Buy/Sell/Trade/Consign, by appointment.