Gibson / ES 335 / 1966 / Cherry / Guitar
There are some super cool 60s Gibson hollowbodies in stock at the moment, including this worn in cherry ES 335TDC from 1966! This guitar remains in fairly original condition with a lot of vibe and no breaks/repairs.
Work to the guitar includes:
- Schallers tuners installed at one point, original klusons are reinstalled with conversion bushings.
- The bridge pickup had one coil rewound by Slider pickups. There is some slight widening of the pickup cavity from another humbucker being installed at some point.
- The saddles are replaced, there was also a b3 Bigsby installed at some point. Two of the trapeze mounting screws are replaced.
- A pro refret with very little wear, plays with a low action and a straight neck.
Comes in an import stamford case with no handle that is worn but solid.
Joel's Vintage, Australia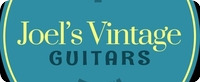 Contact name:
Joel Willing
Online vintage guitar store in Sydney, Australia.
Specialising in original Fender and Gibson guitars.
Buy/Sell/Trade/Consign, by appointment.