Gibson / Les Paul/SG Standard / 1962 / Cherry / Guitar For Sale
10% OFF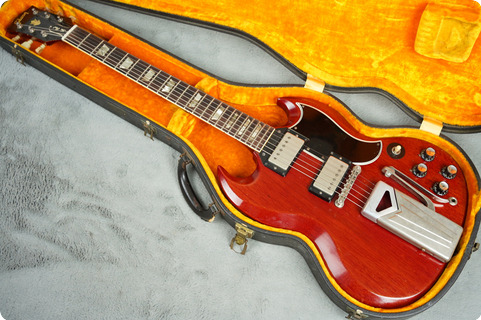 10% OFF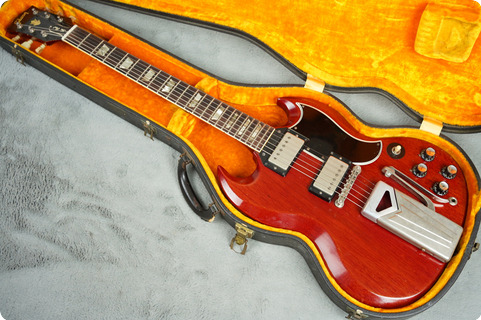 10% OFF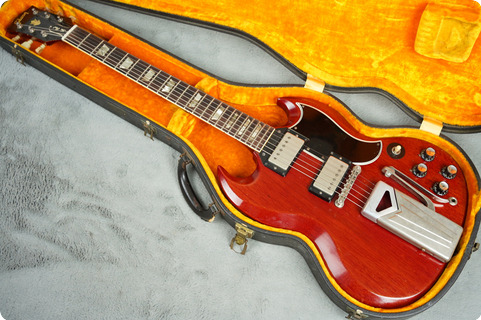 10% OFF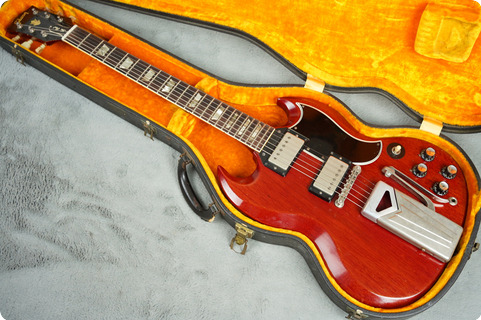 10% OFF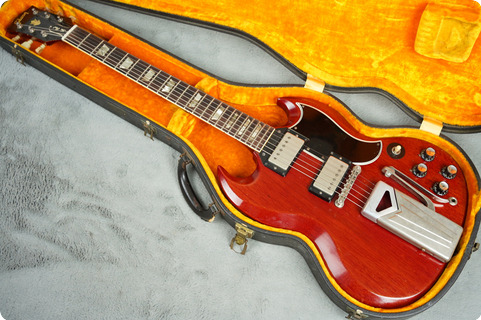 10% OFF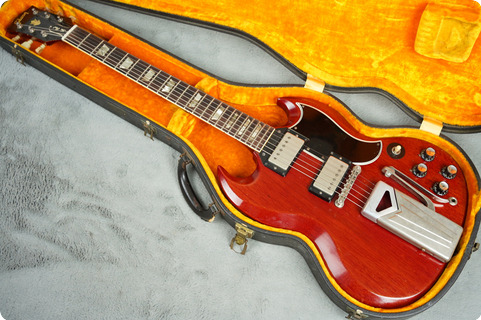 10% OFF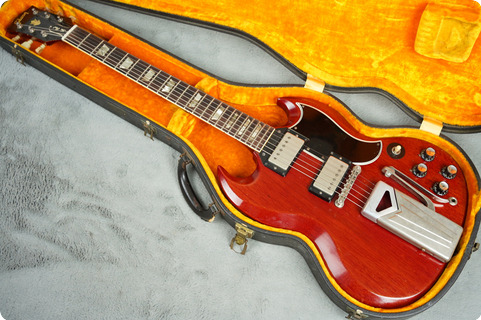 10% OFF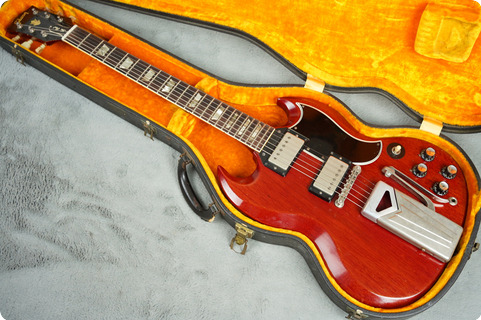 10% OFF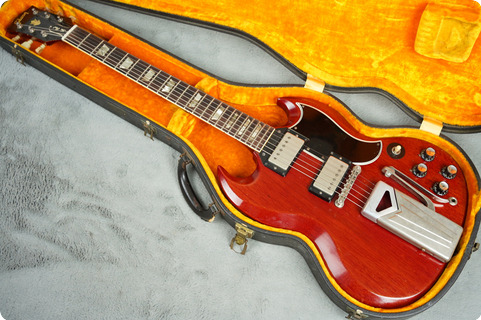 10% OFF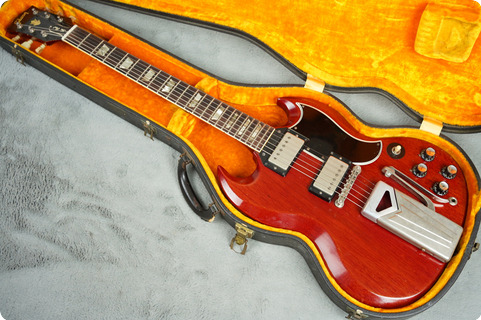 10% OFF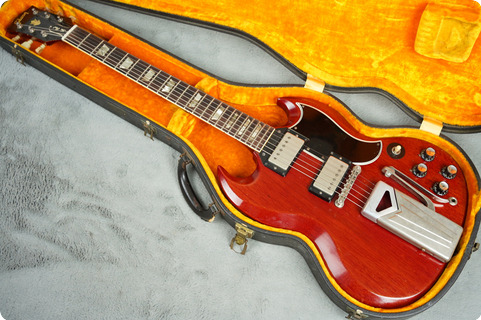 10% OFF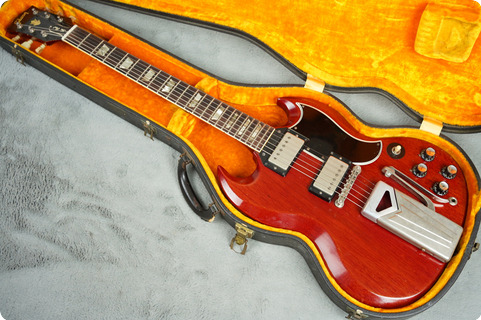 10% OFF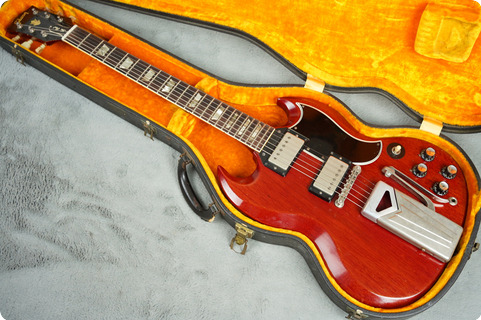 10% OFF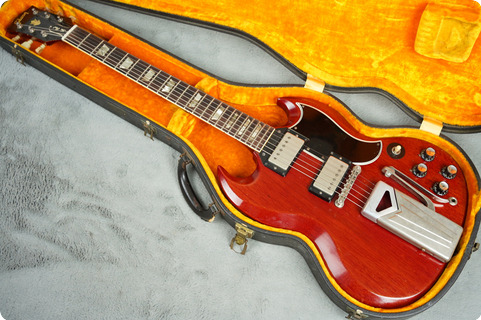 10% OFF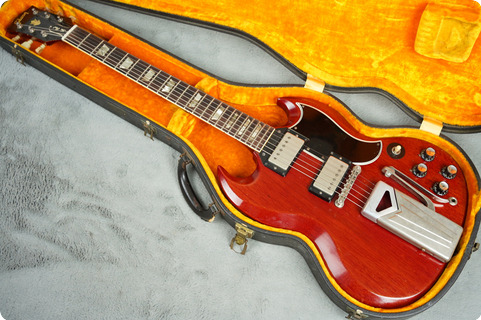 10% OFF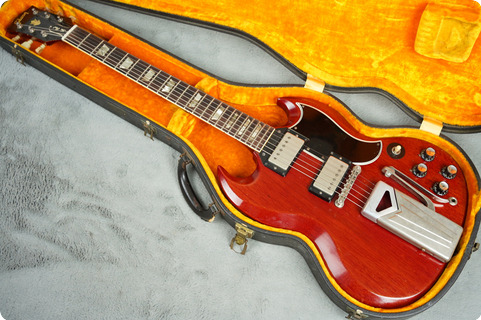 10% OFF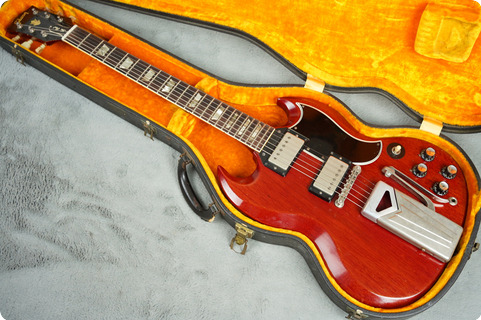 10% OFF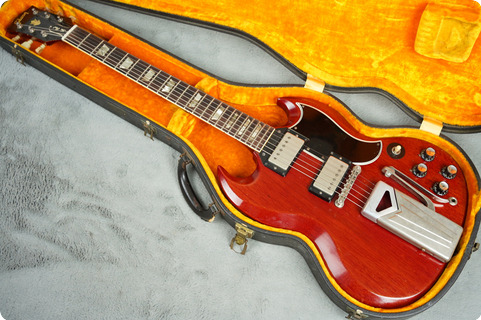 10% OFF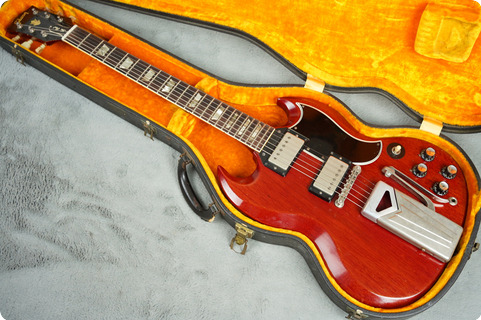 10% OFF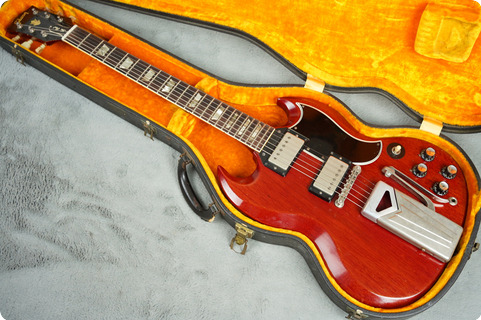 Advertised as 'the fastest neck in the world' when it was introduced in 1961, Gibson's forays into the angular took the Les Paul into the new decade with a brave new look. A complete overhaul introduced a lithe, double cut body reducing the weight and giving better access to the upper frets. The slimmer neck made for a faster playing guitar and the sideways trem gave the Les Paul a new weapon in its arsenal. A step too far for Les Paul, the affiliation with Gibson's solid body guitar briefly halted, the new guitar was dubbed the SG by the end of 1962 and the rest as they say is history….
This guitar certainly looks the part. The finish is gorgeous with only the slightest bit of fading. There are a few knocks and bumps but what do you expect after 50 years? There is a small patch on the back that has been touched up due to the repair on the heel but the finish elsewhere is all original.
The neck, like the body, has retained its sumptuous cherry hue with some light fading. The fretboard shows no signs of wear and has been refretted, work carried out by Julian Mullen. Correct tuners are still present though the trussrod cover is a repro
The all nickel parts look very good with maybe a very little dulling. There has been some pitting on the trem.This is currently setup with a Mojoaxe Vibrostop. The pieces for the original trem are in the case.
The plastics are in great shape. Three of the knobs have been replaced with the tone on the neck pickup being correct.
Electronically everything looks to be correct. The pickups are Brandonwound PAF clones. All the pots and capacitors are correct.
The guitar comes with its correct black hardshell case with orange lining.
Tonally, this guitar really brings quite a unique perspective on the twin humbucker combination. The smoothness of the neck pickup with the bite of the bridge and never too woofy. Like any Gibson from this period and earlier, there is such a scope to the sound.
If you're searching for an SG for the collection then you cannot go wrong with this one. Grab it before it gets away…
ATB Guitars, UK

Specialties:
Vintage Gibson, Fender and Martin from 1940's-1970's
Hello we're ATB Guitars.

We are one of Europes leading sellers of vintage and rare guitars. We only sell vintage Gibson and Fender electric guitars from 1950 until 1975 and have an extensive inventory to browse in our bricks and mortar store in Cheltenham, UK or in our online web store.
Payment and p/x:

All prices are in UK GBP £ Sterling. Payment can be made by Paypal, bank transfer, cash, or money order cashiers cheque etc.

Should you not be absolutely delighted with your purchase you may return it to Cheltenham, at your own expense, within 7 days from the date of delivery for a full refund. The item must not have been altered or tampered with in any way, and it must arrive in the same condition as it left us.

Postage and shipping:

We ship within the UK by Royal Mail Recorded (small items under 2Kg), TNT or UPS and Worldwide by Royal Mail Airmail Signed For (small under 2Kg) Parcelforce, UPS or FedEx. All shipping prices include expert packing, cartons and packing materials but not insurance which is typically around 2% of items value. Currently approx shipping rates for a single guitar are as follows:

UK excluding Northern Ireland and Highlands £29
Most of mainland Europe £49
U.S.A. £129
Asia £149 - £190
Rest of World including S. America £149 - £275