Frank Deimel opened his guitar/bass-workshop in 1998 in Berlin. Some of his clients are Sonic Youth, Tocotronic, Nikki Sudden etc. We had a little chat with him about his work as a luthier.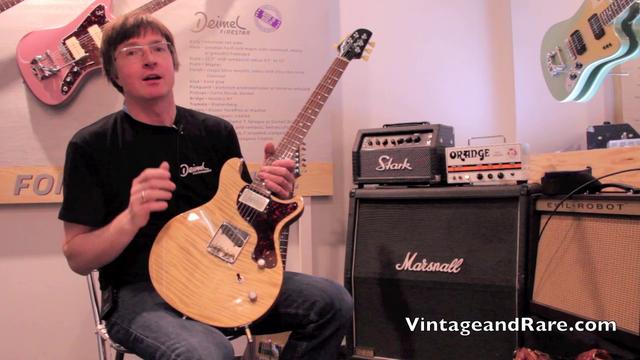 Hi Frank, thank you for taking your time to speak to us. Could you tell us a little bit about how and when did you start your company? Where are you located?
I started my guitar-building company in Berlin during my study at the UdK Berlin, while I took the Industrial Design courses. I developed several designs of my guitars during that time, and besides that I got to known Berlin as a divided place. In 1998 I officially started the business, which is based in former west, called "red island", it`s a place somewhere between Potsdamer Platz and Tempelhof.

What motivated you to begin building guitars and basses? And what type of guitars and basses do you build? Standard models? Custom orders? How does it work?
My work as a luthier started basically as a youngster, I was 14, when the initial spark grabbed me. My three years older brother brought in a repair on a Gibson SG copy, and we both managed to get a reasonable guitar out of it. He did a lot of flight models and race car models before so I was into wood and electronics already through him. He is running kind of an analog dinosaur recording studio in France now.
My first models were mainly complete custom orders, people came in, and asked for their special solutions. I realized, that there is a big gap between what you get from stock, and what can be build. Nowadays I am still doing the complete custom guitar on request, as also my own designs, which are now going to be produced in bigger amounts.
Please describe to us how do you come up with the names for your guitars and basses?
The names are based on that, what they are: little stars on electric guitar heaven. "Customstar", "Firestar", "Doublestar", some future designs will have similiar names, it should continue on the stellar range.
Can you describe to us the process, from idea to conception, of building a great guitar or bass?
Well, the most important thing is the talk, the discussion. The finding of irregularities, or uncomfortness, that needs to be sorted out. Everybody complains about something different, so you got to listen to that. It helps a 100%, to give your customer a complete ear. Listen carefully!  And then you detect, that he really has a point. And then I find something really interesting, something really new, which I try to put into a totally new instrument design for the customer.
I try to really understand the physical problems with the instrument itself, and then try to get around these issues by making it fit. "Make it fit" is one of the most important things in instrumental design.
Do you have one instrument that is your favorite or that makes you the most proud in terms of craftsmanship, sound, look, and so forth?
Yes, that is my Deimel Doublecaster. It is based upon my most personal favorite, the Gibson Les Paul Junior. I cannot really explain why I love this guitar so much. For me, it`s an almost perfect Design, for me it`s the Nessun Dorma of guitar design. It`s somehow holy.
How do you consider musical styles and genres when building your guitars and basses in terms of selection of pickups, woods etc.?
For me, that is one of the most important procedures of doing a guitar. I prepare myself by getting as close as possible to the music of the customer. I try to be in the same situation, I try to completely be him/her actually.
This is the only way for me to understand the use, the approach, the final role of that particular guitar. The guitar is a tool, to express the musician's feelings. If it does that to his or her most comfortable imagination, than I got it, I nailed it.  My experience allows me to transfer that into the choice of materials being used in an instrument. In the process of developing the guitar, I am telling  the customer, what goes with what, or what evolves out of mixing  particular wood, and pickups, fretboard, etc. The result will be quite close to what the customer wants. Because I work with wood, there is no 100% certain result, but it`s very close now. So basically the result is very individual and personal. The customer works out the musical styles with it, and my work helps to get that.
Are your guitars or basses especially common among musicians playing a certain genre?
Most of my work got noticed by guitarists, who are basically called "independent", which basically means they do what they want to do. So, to answer that question, I think, it`s people, who use guitars as tools basically, and are not hanging them anywhere. That would be any genre, I guess, but I am happy that people from certain genres come to me, and we have most often the same tastes.
When building a custom guitar or a bass for a particular player, what considerations do you make?
I want to listen to him/her very close, what he really wants the instrument to do for him. I like to do certain designs, often based on classic ones, but by mixing the styles of these classic standards, and the materials, I kind of taylor a very personal
instrument. For me, it`s most important to know what the guitar should do as a tool. Though I know, that eyes can listen too ( 🙂 ), the outlook should also suit his or her style. The guitar is also a fetish, or an accesoire! It should let the musician look good with it! Its a package, and when I see the customer, and talk to him, I collect all my informations, to make a real custom guitar out of that.
What accomplished musician, apart from the many you`ve already have collaborated with, would make you proud to see play your guitars or basses, and why?
Anybody, who likes, and wishes for something, which I can make suit. If it suits, it suits, nothing else.
Any interesting new guitars or basses on your workbench right now?
I have my Firemaster on production line, it`s a mixture of a Non-Reserved-Firebird and  Jazzmaster, I think that everybody knows these designs. I did a mixture of that, and thought, this is completely comfortable, and sounds good too.
Any advice for players looking to order a custom guitar or bass?
Yes, please, think of yourself first. Think of your needs, but do not stress yourself. Just get calm, get into the things you do, and really make up your mind about planning any special guitar. After you have made up you mind about it, tell me anything you want, don't think, that  things are not possible. The result is a process between your wishes and my abilities, but first tell me anything you have in your mind about it.
Given that this is for a blog, what role has technology (the internet, your website, etc.) played in the success of your business?
A big role. For me, it is basically an unbelievable tool. I think, that communication never had a bigger sense, than these times.
Any famous last words?
Music is a language between gesture and talk, it will always be!
Find out more about Deimel Guitarworks here or visit Vintage&Rare.com
All the best,
V&R Team