In celebration of VintageandRare.com's 15-year collaboration milestone with the world's foremost luthiers, we have had the privilege of joining forces with extraordinary craftsmen who push the limits of guitar making to new horizons. In this interview, we dive into the world of Luigi Valenti of Valenti Guitars, an extraordinary luthier whose guitars embody unwavering passion, meticulous attention to detail, and a deep understanding of what makes an instrument genuinely exceptional.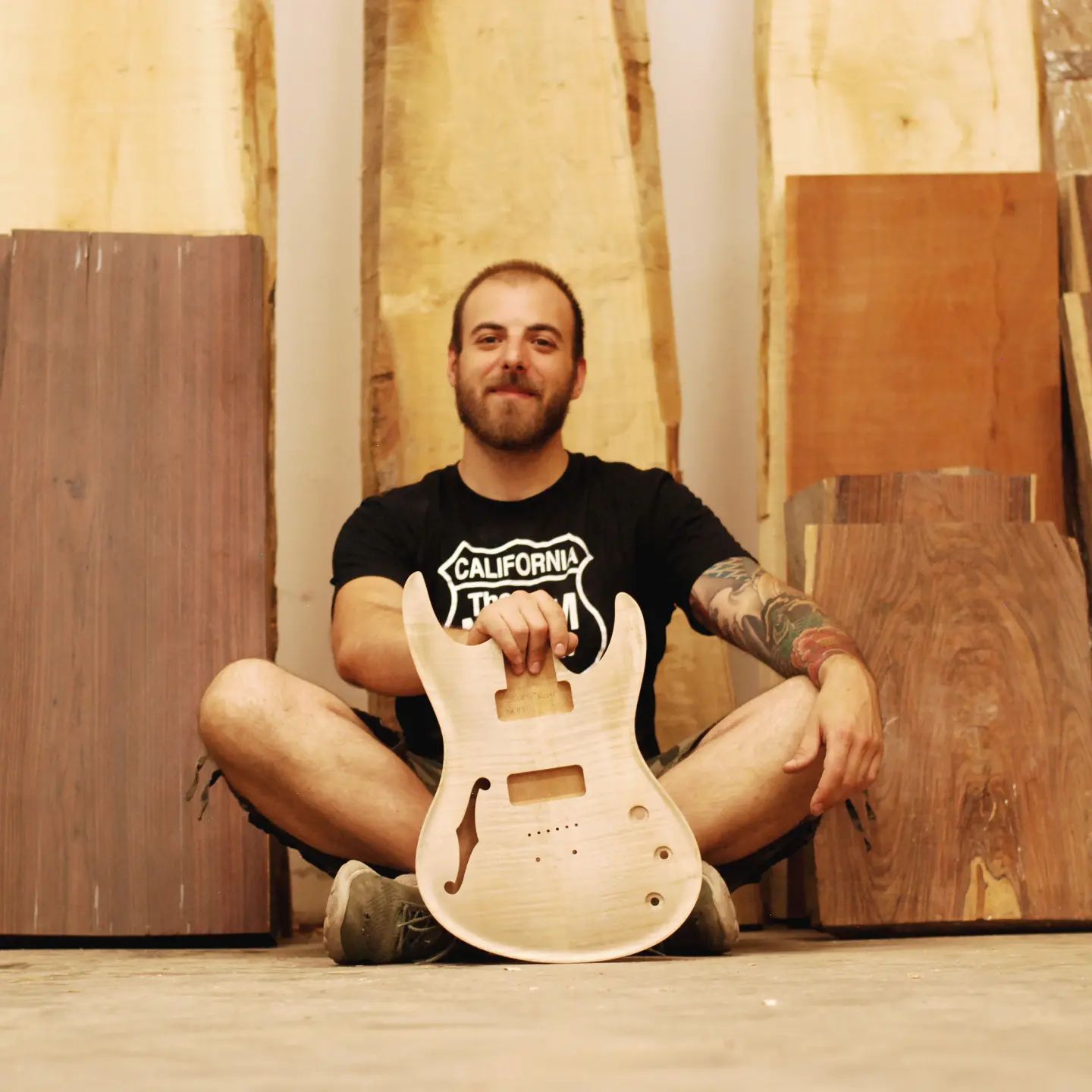 In a world where conformity often prevails, it takes immense courage to venture down an unconventional path and pursue a career in luthiery. Luigi Valenti's journey is a testament to the power of following your passion, embracing the challenges, and staying true to your craft. Aspiring luthiers can draw inspiration from Luigi's unwavering dedication and commitment to excellence. His story reminds us that taking the road less traveled, though arduous at times, can lead to extraordinary achievements and personal fulfillment. So, let us celebrate the courageous craftsmen who dare to forge their own way, shaping the world of music one instrument at a time.
Join us as we explore Luigi's journey, his inspirations, and the remarkable artistry he brings to Valenti Guitars.
---
When did you first develop an interest in music and instruments, and what sparked your passion for luthiery?
I have been around music and guitars since I was 8; my parents wanted me to try playing a musical instrument, and I was undecided between Saxophone and Guitar. Ultimately, the sax was deemed too loud for indoor playing, so my parents went for a more gentle classical guitar. With ups and downs, I kept playing throughout my teenage years, switching to electric when I discovered Metallica, and it all spiraled down from there. My interest in Luthiery started around 20 when I modded and adjusted my guitar. I loved that aspect, and in the end, it took me so badly that now I have no time for playing! You have to pick one of the two to do it seriously.
Can you share your training and education journey in the field, including any courses, workshops, or apprenticeships you have taken?
I learned the basics on my own, studying manuals and old Italian violin-making books; I was also lucky enough to start a BA course in Physics that gave me a lot more technical insights on the craft rather than just trial and error knowledge. After about two years and only three instruments made -with very few tools and skills I got an apprenticeship at Crimson Guitars in the UK. I stayed there for about a year; during this period, I learned a lot and made tons of mistakes, but I am also happy and proud to say that I have helped the brand develop its first production guitars series and its first models of pickups. When I returned to Italy, Valenti Guitars started immediately, and the real journey began. I also took a Master in Engineering of Musical Instruments at the University of Ancona in 2019, which helped me understand various other aspects of the physics and mathematics behind a guitar. I must say that I keep studying and learning to this day, as I think it is always a fundamental aspect of any craft.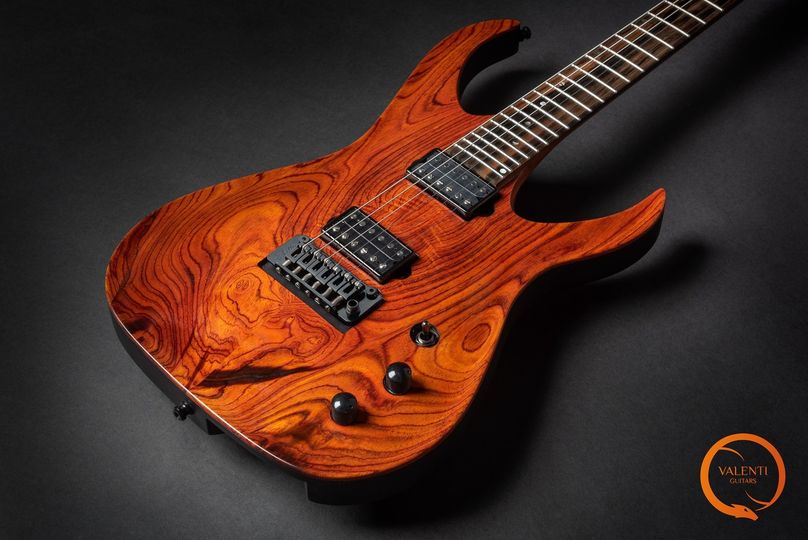 Can you walk us through your journey to becoming a professional luthier, including any challenges you faced and how you overcame them?
The most demanding aspect of my experience is the uncompromised dedication to the craft. Pretty much all my energies go into getting better at what I do; I spent years reinvesting almost all my profits in getting better machinery, better woods, and stock material, leaving little to nothing for myself. This also happens to this day sometimes. This, paired with almost no rest, drains you and takes you away from family and loved ones, and I find it very difficult to give myself a break unless my body physically demands it. The thing is that I don't have any limit on the things I like: it is either 0% or 100%, and there is nothing in between. I think that this is why the brand got so well renowned so quickly, so it is both a blessing and a course, but it is how I do things.
Celestial bodies heavily inspire your building philosophy. Can you elaborate on how this influences your approach to crafting guitars, including your design aesthetic, choice of materials, and techniques used?
This goes back to my Physics studies and my love for Space overall. I love the balance, complexity, and sometimes clear simplicity of what happens there. To me, a musical instrument is all about balance, the harmony of shapes, elegance through logic, and defined rules; the beauty of this is that you can apply it both to the aesthetic aspect and the tonal response and playability. These are the rules I always follow.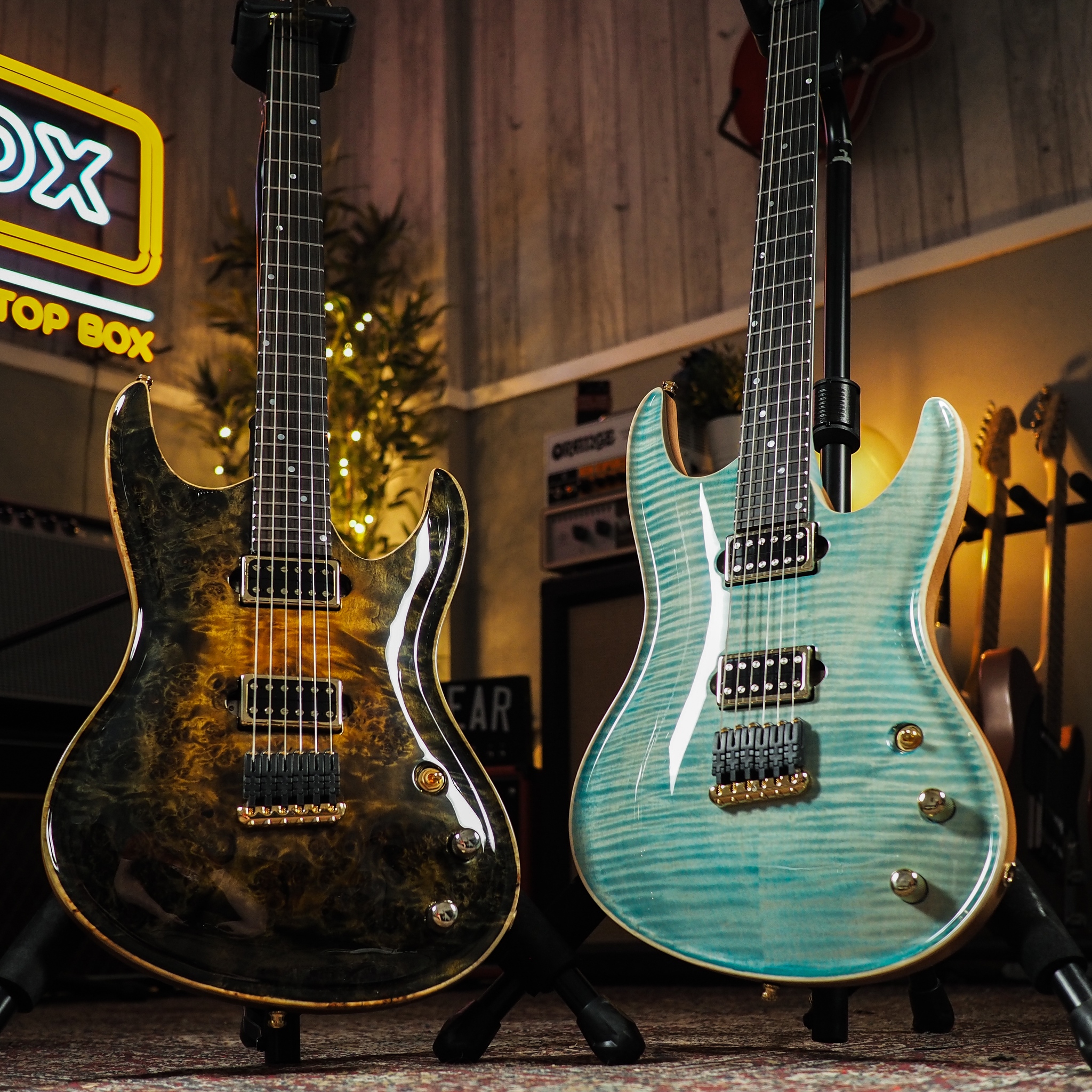 Can you please describe your signature style and what sets your guitars apart? We see you offer true temperament on all your instruments. Would you mind elaborating on this feature?
As I said earlier, I like balance and harmony. To me, an electric guitar must be something elegant that transpires mannered luxury. There is a fine line between vulgar ostentation and reasoned display of beauty; I always aim to be in the latter. This is for what concerns the general aesthetics.
For the more technical aspects, I am a firm believer that we must know extremely well the processes of past builders and traditional ways of doing things; then, thanks to our new technologies and knowledge, we must implement and take everything a step further, always trying to improve over what's existing. This is why I have an Uruboro in my logo: we always have to start from the beginning, move from there to reach another improved baseline, then repeat the process when needed.
The True Temperament system is an excellent example: any experienced guitarist knows and hears that the guitar is not a perfectly tuned instrument. The frets position is an average of where the note should be, but it is not 100% accurate. The wiggly frets on a TT fretboard eliminate this problem, placing each note where it is supposed to be for each string, delivering a guitar that is as in tune as a piano. I really like the concept, but I must say you must have good hearing and experience in playing to understand, appreciate, and properly use this feature. Again it is a matter of balance.
Are there other places you draw inspiration from, whether musical influences, architecture, or other art forms?
Absolutely. All my shapes (even the ones not yet launched) follow the rules of symmetry defined by Renaissance painters and mathematicians, the top carvings on my Nebula and Callisto are a direct inspiration from my trip to Cremona, when I saw in person the violins and cellos from Stradivarius, Guarnieri, and Amati. No matter what, our eyes and brains are hardwired to recognize certain lines and proportions as nice and pleasing, and I try to follow those who put them in words and reason those feelings.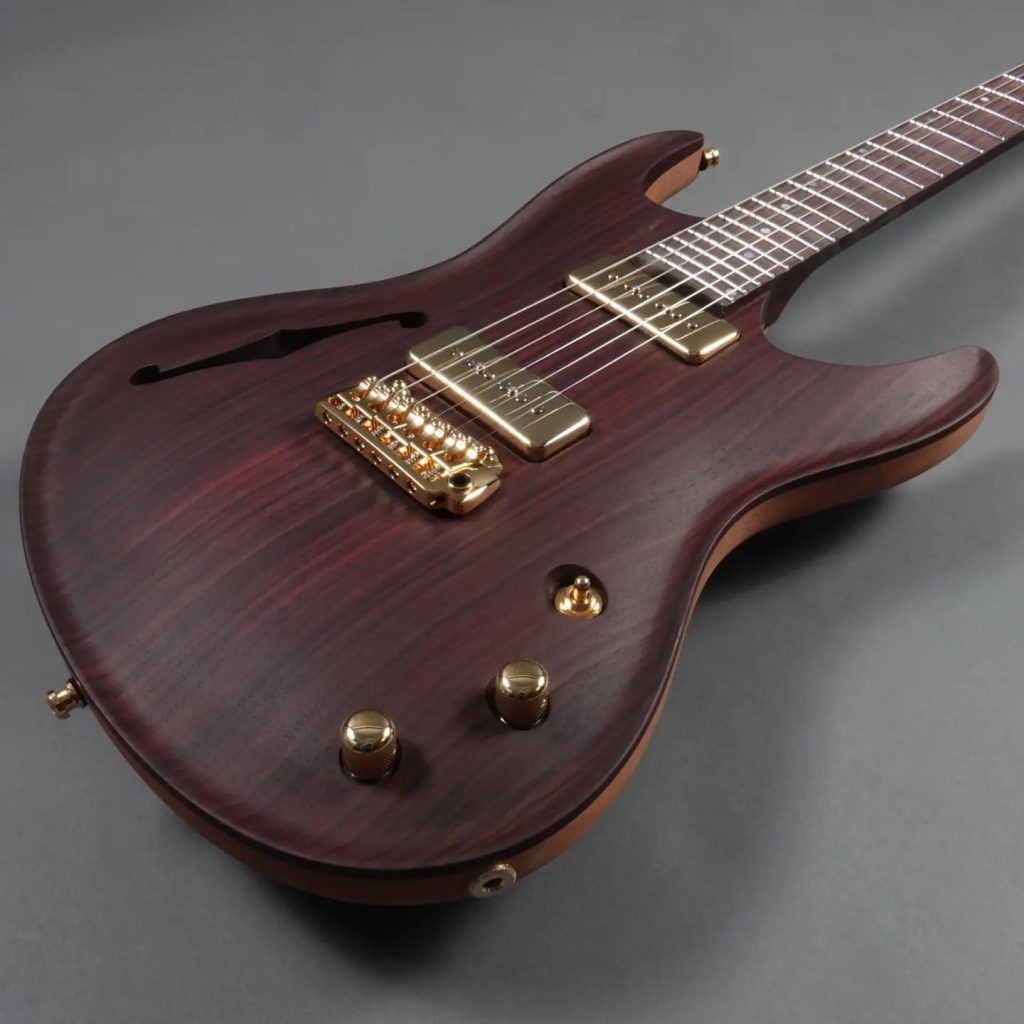 What are some of the biggest challenges and rewards of being a luthier, and how do you balance the creative and technical aspects of the craft?
I think that this is nowadays an extremely saturated field. There are thousands of skilled luthiers worldwide, and the internet puts everyone on the same level. You must stand out excellently, with almost no room for mistakes. Also, you need to create instruments with the character without being too eccentric; it is a difficult task considering the number of options out there.
Regarding creativeness and technicalities, I think that the most crucial aspect that must be taken into consideration is that my job is to provide a baseline layout of the instrument that represents what my experience and knowledge think is best. After that, all my skills must be at the service of the client's needs. My job is to advise on the best path to achieve the demanded instrument's characteristics; my preferences at this stage must be minimal. I can only focus on the technical aspect to deliver a perfect instrument for the client. The creativity kicks in when, after all the information is gathered, you must assemble them, following the rules previously mentioned. Sometimes it is challenging, but I enjoy this aspect of the process.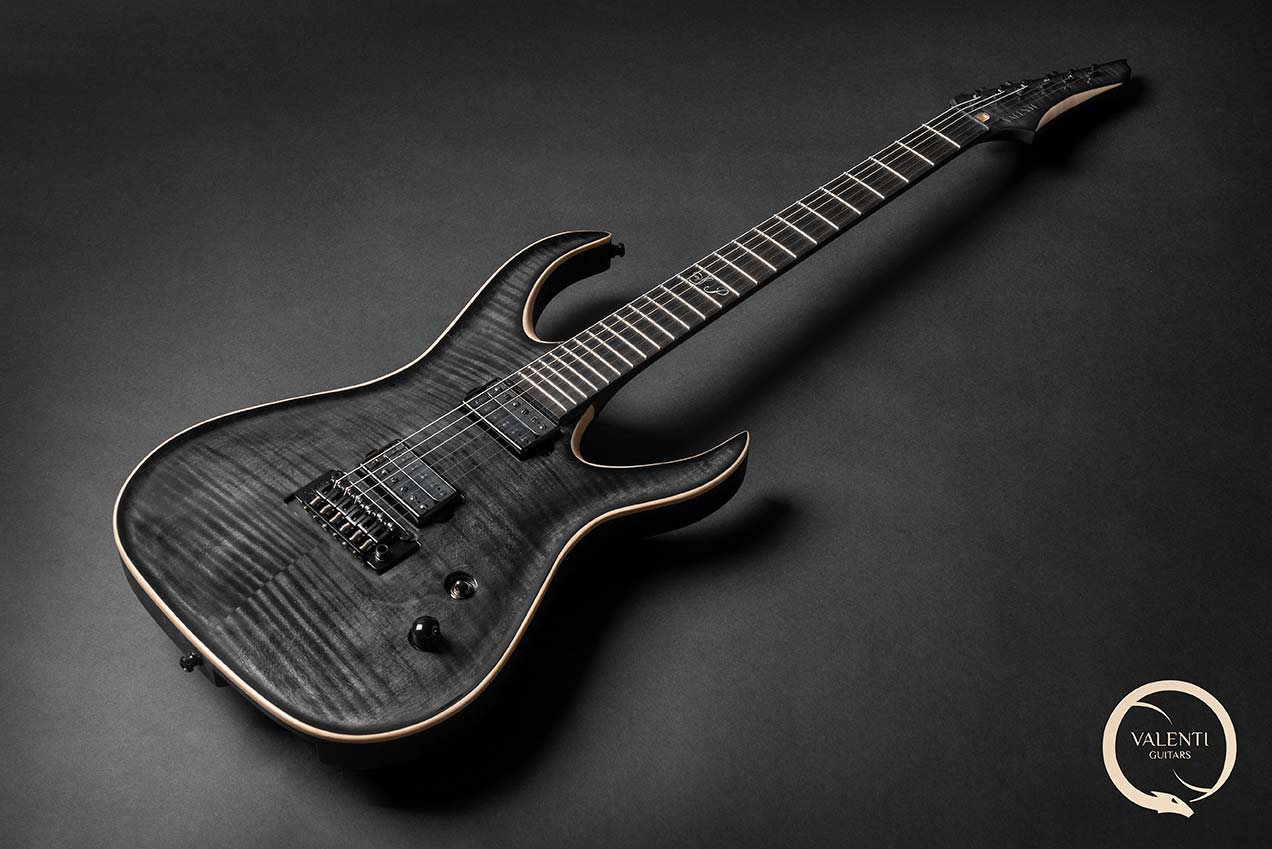 What are your future goals for your business, and are there any new projects or collaborations you have planned?
Currently, the goal is to consolidate brand awareness across the main markets; This will also be done thanks to the great collaborations with Selectron for the UK and Kanda Shokai for Japan. These are my two main distributors, and I sincerely appreciate their trust in my work. Having a limited amount of instruments I can build during the year, it is paramount to collaborate with people that share the same view and love for the brand.
I am also developing some new models, which are almost at the finishing touches, and will surely be worth checking out once they're ready (Single cut anyone?).
To conclude, can you share any final thoughts or advice for aspiring luthiers?
If you are willing to follow this path, remember it is a long, challenging journey. If you want this to be your job, you must be prepared to invest 100% of yourself in it to be successful, and sometimes this might not even be enough for the most strange reasons. But this can apply to anything, really. Apart from this, study, experiment, learn from mistakes, and be as objective as possible toward your final results. Focus on the flaws of your work, not the good things, and I wish you all the best.
---
Thank you for joining us on this captivating journey into the world of Luigi Valenti and Valenti Guitars. We sincerely thank our viewers for their time and interest in this exclusive interview.
VintageandRare.com continues to be a global platform that celebrates the finest instruments and the exceptional talents of luthiers and boutique builders worldwide. If you are a luthier or builder passionate about crafting exquisite instruments, we invite you to join our esteemed community. Showcase your craftsmanship and connect with a discerning audience that appreciates the artistry and dedication behind every instrument.
Join Vintageandrare.com, one of the largest and oldest platforms for the world's most exceptional instruments.
Lorenzo Fugazza Showcases the Nebula 6 Carved Top model by Valenti Guitars, amplified through a Paul Amp from Diezel Amplification.
Situated at Oscar Guitars in Stockholm during the V&R Boutique Guitar Show, this demo combines the music of Lorenzo Fugazza with the craftsmanship of Valenti Guitars. The video production, executed by Nicolai von Cotta-Schønberg exclusively for VandR.com, captures the essence of these remarkable instruments.